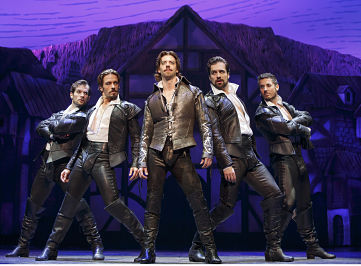 It's the 1590s, two brothers, Nigel and Nick Bottom, are desperate to top their arch literary rival William Shakespeare. So they seize on a radical idea: They'll put on the world's first musical! While it sounds crazy to the denizens of Renaissance London, the concept, better known as Something Rotten!, offers big entertainment value on Broadway.
Now at the St. James, the rollicking, high-energy production is a clever sendup of musical theater and the Bard. And it adds considerably to the enjoyment if you know both. Loads of famous musicals are referenced, including Pippin, Fiddler on the Roof, Chicago, Les Mis, Guys & Dolls and Cabaret. Half the fun is catching the lightning-quick shout-outs.
The other half is noting the Shakespearean nods, be it to Falstaff, Hamlet and Shylock or getting a kick out of the proposed creation of classic lines, such as "to be or not to be," "now is the winter of our discontent," never mind the brazen theft of love sonnets.
Something Rotten! posits Nick Bottom (Brian d'Arcy James) as a writer frustrated by the rock-star status of wily Shakespeare (played with over-the-top glee by Christian Borle). To ensure Nick and brother Nigel (John Cariani), a gifted writer in his own right, secure their place in the sun, Nick consults Nostradamus (spot-on Brad Oscar). He's charged with seeing into the theater's future, hoping to conjure up all the necessary ingredients for the perfect production.
His forecast -- gloriously wacky and askew -- kick-starts the genesis of the musical. Throw in eager lovers, Nigel and Portia (Kate Reinders, who doubles as a clone of Kristin Chenoweth), Nick's determined wife (Heidi Blickenstaff) and an array of groupies who adore the script-stealing Shakespeare in "Will Power" and Something Rotten! turns up the comedic heat.
Thanks to a terrifically witty book by Karey Kirkpatrick and John O'Farrell, coupled with equally witty music and lyrics by Wayne Kirkpatrick and Karey Kirkpatrick, the show delivers with gusto. Director Casey Nicholaw keeps the pace brisk and gets the best from his talented cast, lead by a jazzed d'Arcy James, who pull out all the stops to ensure that all's well that ends well.
But a more serious musical, Dr Zhivago, based on the epic novel by Nobel Prize-winning author Boris Pasternak, missed the mark. Now at the Broadway Theater, it's an ambitious effort and Lucy Simon delivers a stirring and melodic score.
The musical cuts a wide swathe during hugely turbulent years in Russia, from 1903 through the aftermath of World War I. The musical, like the David Lean film, streamlines the action, which focuses on Yuri Zhivago (Tam Mutu), the orphaned son of a once-wealthy man taken in by the kindly aristocratic Gromekos. He subsequently marries their daughter Tonia (Lora Lee Gayer) and becomes a doctor and esteemed poet.
However, his life soon intersects with Lara Guishar (Kelli Barrett), with whom Yuri falls instantly in love. She has her own complicated life, involved with the revolutionary Pasha (Paul Alexander Nolan) and Viktor Komarovsky, a powerful man who coerced the young girl into an affair.
Over the next few years, star-crossed lovers Yuri and Lara will meet in various circumstances, including the battlefield. Their passion will sustain them, even as the political life of Russia becomes terrifying. Of course, for most Russians, Tsarist autocracy and repression and the Red Army's violence mirror each other.
Those of Zhivago's class are stripped of their wealth and standing by the Bolsheviks; indeed the novel, which is critical of the 1917 October Revolution, was banned in the Soviet Union.
And while this made for a stunning film, the musical lacks tension and the staging is uneven, slow in act one, stronger in act 2. Oddly, the famous song "Somewhere My Love" is sung by nurses, rather than used as a musical cue whenever Zhivago muses on Lara.
The real problem: there is no chemistry between the leads, nor is Mutu a commanding enough presence.
Mostly, despite lovely voices, excellent costume design by Paul Tazewell and two notable performances -- Nolan in a dual role that showcases his versatility and the dark side of idealism, and a nuanced Gayer as Zhivago's wife, who retains her sensitivity even in trying circumstances -- Dr. Zhivago doesn't take flight.
This Blogger's Books and Other Items from...
SUBSCRIBE AND FOLLOW
Get top stories and blog posts emailed to me each day. Newsletters may offer personalized content or advertisements.
Learn more