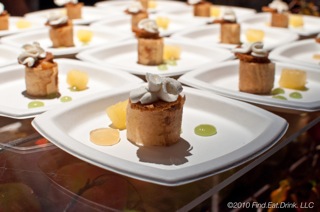 Chefs and Tasty Bits From 2010 New York Taste
The crowds started to form down the block in anticipation of the annual New York Taste. The tasting was held at Skylight Soho on Hudson Street.

Spanish restaurant Graffit will be opening within the next month on the Upper West Side. Chef Jesus Nunez served a preview of what his food will be like with this pintxo of cod with four different toppings, each with a unique taste.

The VIP hour begins at 6pm. It costs more, but it is certainly less crowded.

Andrew Carmellini of Locanda Verde in Tribeca and Marcus Samuelsson of soon-to-be-opened Red Rooster Harlem, were just two of the featured chefs.

Chef Samuelsson served gravlax on a waffle with purple mustard. Here is chef Marcus Samuelsson's recipe for Corn Pancakes with Chili-Covered Gravlax.

Chef Zak Pelaccio's Fatty 'Cue in Williamsburg served a whole heritage pig with maple cider and winter green curry.

Chef Josh DeChellis of La Fonda Del Sol carefully plated maple cured egg yolks on top of a brioche with jamon Serrano and pimenton picante. A mixture of sweet and savory.

Hill Country had the perfect party snack, wrapped fried chicken in a paper pocket. Easy eating and good for spillage prevention.

Chef Michael Psilakis was there to promote his new venture, Fish Tag, a seafood restaurant that will be opening on the Upper West Side.

Another preview of things to come. Chef Michael Psilaskis served fluke with layers of flavors to show off his new restaurant Fish Tag, opening soon.

Chef Bill Telepan served squash tortellini with red cabbage and dried cherries. Good dish for a fall evening.

Chef Dan Barber of Blue Hill and Blue Hill at Stone Barns served Forono beets, with pine nuts and Blue Hill yogurt.

It's always good to end the night with something special from Le Bernardin's pastry chef Michael Laiskonis, who made parsnip custard with Dominican chocolate, hazelnut and brown butter.

Did you attend the tasting? Tell us your favorites from what you ate and drank. To get chefs' restaurant recommendations, tips, and recipes sent right to your email inbox, subscribe to the Find. Eat. Drink. free newsletter.
Follow Find. Eat. Drink. on Twitter: www.twitter.com/findeatdrink