Find. Eat. Drink. Chef's Guide to San Francisco Classics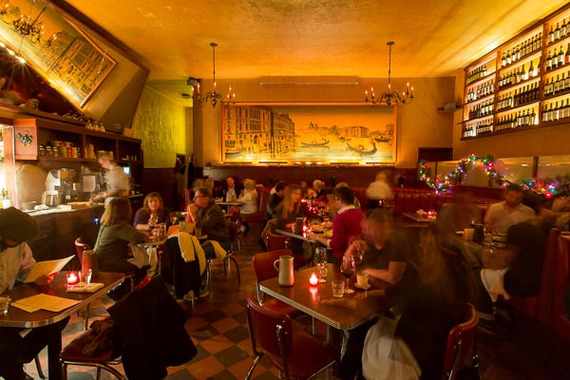 Tosca Cafe in San Francisco has just launched Red Sauce Sundays. Chefs April Bloomfield and Josh Even will offer a family-style menu of classic red sauce Italian-American dishes each week. While the legendary cafe has been around since 1919, it is new to the food scene after Bloomfield and Ken Friedman bought the former dive, added a kitchen and food menu for the first time since the 1960s. Read more about that here in Find. Eat. Drink.
To visit iconic San Francisco cafes, here is chef Josh Even and restaurateur Ken Friedman's guide to the classics.
Chef & Restaurateur's Guide to the iconic cafes in San Francisco
This past October, chefs April Bloomfield and restaurateur Ken Friedman gave new life to Tosca, the third oldest bar in San Francisco. They spent 1.5 million dollars to renovate this legendary North Beach dive bar and turn it into one the hottest Italian restaurants in the city.Photo: Sonya Yu

Keeping the soul of Tosca was essential for the renovation. They restored the historic murals, changed the red vinyl banquettes to leather, patched the checkerboard floors and rewired the jukebox, which still plays opera and a bit of rock n' roll.Photo: Sonya Yu

Chef Josh Even, who is Friedman's and Bloomfield's partner in the restaurant and runs the day-to-day, first visited Tosca in 2002. The cafe opened in 1919 and was a neighborhood watering hole for politicians, musicians, and in the mid-1950s, beat poets. "There were all these stories about Sean Penn and Hunter S. Thompson and Bono standing on top of the bar singing along with the jukebox. Further back, all the beats came through here, like Kerouac, Neal Cassady, Gary Snyder and William S. Burroughs."

Ken Friedman is the co-owner of Tosca and came to the food world via the music industry, where he was a concert promoter working with legendary Bill Graham in San Francisco. Friedman promoted the first American U2 tour, a early step in long line of famous bands he worked with. When it comes to cafes, Friedman has a soft spot for the classics.Photo: Jolie Rubon

"There are a couple of must-visit places in every city and Tosca has always been a place to go to late at night," says Friedman. If you're into visiting the classics, especially where the beat poets hung out, Tosca is a good place to start. Here is Even and Friedman's guide to other iconic spots in the San Francisco.

Before you begin eating and drinking, come to the center of where the beat poets hung out, the City Lights bookshop. Owned by Lawrence Ferlinghetti, this landmark bookshop opened in 1953 and is located across the street from Tosca. "You feel like you could have walked in 40 or 50 years ago when you come here," says Josh Even. "You get to see all of their work and a lot of it is published by City Lights itself. It has an excitement about it because of this collection of geniuses."Photo: City Lights

Steps away is Vesuvio Cafe, where Jack Kerouac, Neal Cassady and Allen Ginsberg congregated. "It's fun to be in the same seat that I've read about all my heroes being in." Known for their Bohemian Coffee with brandy, amaretto and a twist of lemon, Even says, "It's definitely a different clientele now with more beer on tap."

Caffe Trieste, an Italian coffeehouse, opened in 1956. It's said that this is where Francis Ford Coppola wrote the screenplay for the Godfather. Ken Friedman likes to come here in the mornings. "This a great place where you'll find people that are completely out of their minds in a very kind of San Francisco North Beach beat poet kind of way and half of them are Nobel Prize winning poets and authors, the ones talking to themselves."

The original building of The Buena Vista was a boardinghouse until 1916, when the landlord converted the first floor into a saloon. Ken Friedman recommends this quintessential San Francisco watering hole for their signature Irish coffee. They are said to be the first to serve Irish coffee in the United States back in the 1950s.Photo: The Buena Vista

"It's been here for about a hundred years and is phenomenal." Ken says of Balboa Cafe. It opened in 1913, making it one of the oldest bars in San Francisco. "They have terrific burgers, a BLT, sandwiches and salads. It's not fancy or elevated, it's just really solid. It is very much a bar and a restaurant. There is this great long bar that you can sit at by yourself and read the paper or people watch."Photo: Balboa Cafe

"The Tadich Grill is part of the San Francisco tradition," says Josh. Opened over 160 years ago, it is said to be the third continuously run restaurant in the country. What to order? Josh recommends the Crab Louis and the Cioppino.

To get the full San Francisco City Guide, including recommendations from April Bloomfield, Ken Friedman and Josh Even, download the Find. Eat. Drink. iPhone app here. You'll find recommendations from chefs, bartenders and sommeliers for where to eat, drink and shop in the U.S., Canada, Mexico, the Caribbean and Europe.
Follow Find. Eat. Drink. on Twitter: www.twitter.com/findeatdrink