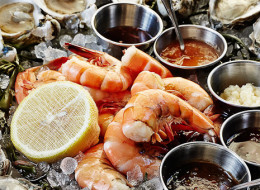 Find. Eat. Drink. takes you where the locals eat and drink by passing along ten recommendations from Charleston chefs and bartenders.
Find. Eat. Drink. Where Chefs Eat and Drink in Charleston
With its sumptuous local bounty from both the sea and land, Charleston is a chef's dream location. At The Ordinary, chef Mike Lata (of FIG) has created a Southern seafood hall and oyster bar located in an old bank. Here you'll find local and regional gems from the sea.Photo: The Ordinary

When chef Mike Lata has the chance to eat at other restaurants in Charleston, he likes chef Josh Keeler's Two Boroughs Larder, "For those who appreciate boundary-less, inventive and coddled cuisine. We all love it."Photo: Two Boroughs Larder

Chef Josh Keeler, of Two Boroughs Larder, passes along Xiao Bao Biscuit as a recommendation, "They do Asian comfort food," he says. "Their Mapo Tofu is really good. They have a Japanese pancake called Okonomiyaki and it's taking the town by storm." Chef Robert Stehling, of Hominy Grill, describes it as "different from anything else in Charleston."Photo: Xiao Bao Biscuit

Chef Robert Stehling has been serving Lowcountry cuisine at Hominy Grill since 1996. Chef Kevin Johnson, of The Grocery, respects Stehling's ability to buck trends, "He has stuck to his guns and continues to produce the only truly Lowcountry restaurant. I send every visitor here."Photo: Hominy Grill

Chef Kevin Johnson gets his inspiration from the old days of the corner grocery. His menu at The Grocery is based on local ingredients when they're at their peak. This is his Green Eggs and Ham with Smoked Ham, Cheddar Griddle Cakes and Crispy Soft Poached Eggs.Photo: The Grocery

Chef Nate Whiting describes his cuisine at Tristan as "contemporary and forward thinking." You might hear others put the label Modernist cuisine on his food. Either way, he's taking a fresh approach with Carolina ingredients.Photo: Tristan

Both chefs Nate Whiting and Mike Lata suggest eating at the Italian restaurant Wild Olive on John's Island. Lata calls it a favorite of his and Whiting loves chef Jacques Larson's house-made salumi, charcuterie and pastas.Photo: Wild Olive

When it comes to cocktails, The Gin Joint is where you'll find chefs like Sean Brock, of Husk and McCrady's. Brock raves about the cocktails at this bar owned by two accomplished chefs, "I've never had better cocktails anywhere. They look at cocktails like dishes and you can taste that."Photo: The Gin Joint

If you're a bourbon lover, head to chef Sean Brock's Husk Bar, next door to the restaurant of the same name. Bartender Jackson Holland, of The Cocktail Club, says, "They probably have more than 60 different bourbons, depending on the time of year and what is available." They don't serve dinner here, but lighter apps like cured ham sliced razor-thin.Photo: Husk

End the night with a cocktail made by bartender Jackson Holland at The Cocktail Club. Barman Brooks Reitz, of The Ordinary and FIG, likes to hang out on the patio and drink a Carpano Antica Formula over ice or one of Holland's specialty cocktails, "The list is so vast that I haven't had the chance to make my way through it yet."Photo: Andrew Stephen Cebulka

We have many more recommendations for where to eat, drink and shop from Charleston chefs and bartenders. Download the free Find. Eat. Drink. iPhone Travel Guide app from iTunes here. You'll also find more cities guides around the US, Europe and Canada.
Follow Find. Eat. Drink. on Twitter: www.twitter.com/findeatdrink