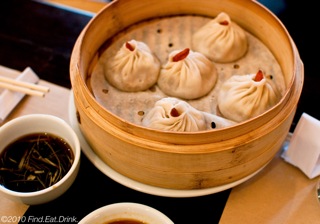 The Chinese New Year begins this week on February 3rd. Celebrate the Year of the Rabbit with food that will bring you luck in restaurants that chefs love.
Find. Eat. Drink.'s Chinese New Year Restaurant Recommendations
The Chinese New Year begins on February 3rd, which means all over the world people will party like it's 4709. There are 12 different animal signs in the Chinese zodiac and 2011 is the Year of the Rabbit. The rabbit is the symbol of creativity, compassion and sensitivity.

Food is an essential part of the new year. Eat the right ones and you could be in for good luck, extra cash and a long life. Each food is symbolic by color or the equivalent sounding word in Chinese. Egg rolls resemble a 10-ounce gold bar, so they represent wealth.

The Cantonese word for shrimp is "ha" which sounds like the word for laughter, so it is said to bring happiness. Noodles are eaten for longevity, just don't cut them.

Oranges and tangerines are given as gifts, since the words sound like luck and wealth.

If you're going to celebrate Chinese New Year, here are a few restaurants that chefs have recommended to Find. Eat. Drink. as places they love to eat Chinese food. To see a bigger list, here are places in New York. Here are a few more places around North America.

Golden Unicorn in New York's Chinatown Recommended by: Chef Joe Ng (Chinatown Brasserie, New York) What he orders: pig leg and dried scallop, both traditionally good luck dishes on Chinese New Year.

R & G Executive Lounge in San Francisco Recommended by: Chef Michael Mina (Mina Group) What he orders: Salt & Pepper Dungeness Crab.

Gourmet Dumpling House in Boston Recommended by: Chef Jamie Bissonnette (Toro, Coppa in Boston) What he orders: the tripe, tongue and tendon salad, whole fish, crab, and braised pork shank with bok choy. He also loves the soup dumplings.

Dim Sum Garden in Philadelphia Recommended by: Chef Jose Garces (The Garces Group) What he orders: the soup dumplings, scallion pancakes, chicken on a stick, and the #7 pan-fried dumplings.

Din Ho Chinese BBQ in Austin Recommended by: Chef Tyson Cole (Uchi and Uchiko) What he orders: the Beijing Duck.

Joyful House in Las Vegas' Chinatown Recommended by: Chef Kerry Simon (Simon at Palms Place, Cathouse in Las Vegas, LA Market & Simon L.A. in Los Angeles) What he orders: Duck. Kerry was introduced to the Joyful House by chef Jean-Louis Palladin and has been coming back ever since for the "real deal" cuisine.

Where do you love to go for Chinese food? Please share your favorite restaurants around the world for Chinese food. For more Chinese restaurant recommendations, click here. Sign up for the free Find. Eat. Drink. newsletter to get recommendations from chefs, sommeliers, mixologists and food artisans.
Follow Find. Eat. Drink. on Twitter: www.twitter.com/findeatdrink