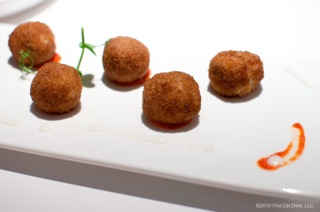 Graffit is the New York restaurant debut of former graffiti artist-turned chef Jesus Nunez, and his third restaurant overall. He previously owned two restaurants, Flou and Polenta in Madrid, Spain.
Taking the visual influence of street art and the sophistication of molecular gastronomy, Nunez creates dishes that are visually bold, intellectually intriguing and layered with flavor. His playful approach to cooking brings out the inner child while satisfying the adult palate. Find. Eat. Drink. gives you a first look at the food and cocktails of Graffit.
Find. Eat. Drink. takes a first look at the Modern Spanish cuisine of Graffit, the fusion of unconventional art and food. This white sangria has bits of jalapeno to add heat and spice.

Chef Jesus Nunez is a former graffiti artist-turned chef. He made a name for himself in Madrid with two restaurants, Flou and Polenta. He is now opening his first US restaurant in New York City. Here is the Find. Eat. Drink. Q & A with chef Nunez.

Mixologist Clif Travers, formally of Clover Club and Bar Celona, brings a modern edge to his cocktails at Graffit. The "Beet Goes On" may look sweet by color, but has savory components. It's gin-based with a beet and sherry syrup, and celery and apple foam. The taste is refreshing, balanced and goes well with tapas.

Chilean graffiti artist Dasic Fernandez painted Spanish-inspired murals on the walls. This is Monolo the bullfighter. Here are more interior photos.

Chef Jesus Nunez defines Graffit as the mixture of textures, flavors, colors and volumes.

Not-Your-Average-Egg challenges you to question: what is an egg? The runny yellow egg yolk is real, but the "egg white" is cauliflower, transformed to have the look and texture of egg whites.

Alaskan Halibut is topped with a vegetable mosaic crust. The strips and droplets are shrimp and squid ink.

Lobster in Smokey Pimenton Sauce. The sprinkling on the corner of the plate? Not just an accent, but lobster powder to add as seasoning. The green "caviar beads" are made from bell pepper.

Pushing the sweet and savory: tender beef cheeks with banana polenta, hazelnuts, and spicy plantain chips.

The rum raspberry cannelloni has the brightness of the raspberries, the freshness of the mint, the richness of the cream, and a warming hint of rum.

Is it a dessert or drink? It's the collaboration of the chef and sommelier using moscatel wine jelly. The two sides of the plate offer different textures and tastes, creating a playful and light ending to your meal. Chef Nunez brings out the inner child while satisfying the adult palate.

What are your thoughts on "Modern-inspired" cuisine? To learn more about chefs, sommeliers and food artisans, plus get their recommendations, tips and recipes sent right to your email inbox, subscribe to the Find. Eat. Drink. free newsletter.
Follow Find. Eat. Drink. on Twitter: www.twitter.com/findeatdrink