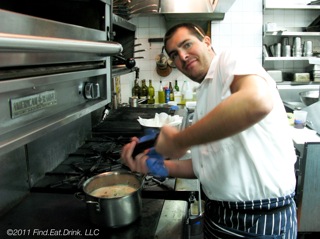 American-born chef Harold Dieterle traveled to Thailand to immerse himself in Southeast Asian cuisine and has wowed critics with his unique spin on Thai and Asian cuisine at his second and newest New York restaurant, Kin Shop.
Q. Please tell us about Kin Shop:
A. It's definitely not authentic, it's contemporary and definitely my take on Thai food, using those ingredients with classical techniques. It's a little of everything. There are no rules.
Q. Before you opened up, did you do a lot of research?
A. I went to Thailand and spent about two months cooking over there in 2003 and again in 2008.

Q. A lot of places cook Thai food, but what makes a place really stand out?
A. I think it's the balance of flavors. You need the heat, the acidity, the salt and a touch of the sweetness, all need to come through. Where I feel like most places, especially in New York, really hold back on the heat, because they think people can't take it and they go a little heavy handed with the sugar.
Check out Harold's recommendations below for Thai cooking and read more of his Q & A on Find. Eat. Drink.
Find. Eat. Drink.'s Thai Recommendations & Recipes from chef Harold Dieterle