Find. Eat. Drink. your way to successful gifting this season with our annual holiday gift guide. The list includes recommendations from chefs, mixologists, sommeliers, cheesemongers, and food purveyors. What's on your wish list?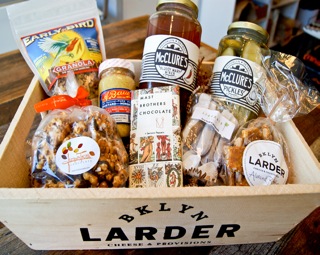 Find. Eat. Drink. Holiday Gift Guide
What: Ink Dish finds underground contemporary artists to help create their porcelain dinnerware. The Irezumi line is designed by Paul Timman, who is one of the leading tattoo artists in the world and recognized as a specialist in tribal and traditional Japanese designs. Price: $27.50 Buy: Ink Dish Here is more information about Ink Dish.

What: Les Toiles Du Soleil is a 150 year old linen company still using traditional looms to create brightly colored linens, aprons, and gifts. Price: $16 and up Buy: Les Toiles Du Soleil Here is more information about Les Toiles Du Soleil.

What: Teroforma's Loft Table Tools are hand-carved from fallen Pennsylvania hardwoods. Each piece is unique with minor variations. This set includes a jam spoon, a chutney fork, and a spreader. Price: $50 Buy: Teroforma Here is more about information about Teroforma.

What: Brooklyn specialty store Bklyn Larder, creates an amazing gift box filled with edible products from around the world. Great pantry items like Fleur de Sel, Bramata Polenta, M. Pouret Vinegar, Artisan Pasta, Local Canned Tomatoes (2010 Harvest) and more. Price: $100 Buy: Bklyn Larder Here is more information about Bklyn Larder.

What: Bourbon for breakfast? Grade A dark amber pure maple syrup aged in 12 to 18 year old single barrel bourbon casks. Make someone's pancakes happy. Price: $18.95 Buy: BLiS Gourmet.

What: Every month, get the most authentic foods in the Southern larder. Fig preserves, pickled peaches, and classics like Moon Pies and Cheerwine - a cherry soda that's been around for almost a century. Price: $305 for 12 months Buy: The Lee Bros. Boiled Peanut Catalog.

What: Can you really celebrate without bubbles? For a strong value in sparkling wine, definitely look for chenin blanc. Price: $26 for the 2005 vintage, $32 - $40 for the 2002 vintage. Buy: available at these retailers.

What: Mixologist Jim Meehan of the New York Speakeasy PDT (Please Don't Tell), loves Cocktail Kingdom's reproductions of historical cocktail books. Great for bartenders and cocktail aficionados. Price: $20-40 Buy: Cocktail Kingdom.

What: Master sommelier and mixologist Fred Dexheimer recommends Fee Brothers bitters: peach for brown spirits and rhubarb for white spirits. Here is a whole kit of mixers. Price: $34.95 Buy: Amazon.com.

What's on your culinary wish list? To see more gift ideas, here is the full Find. Eat. Drink. Holiday Gift Guide. To get chefs, sommeliers and food industry professional recommendations sent right to your email inbox, subscribe to the Find. Eat. Drink. free newsletter .
Follow Find. Eat. Drink. on Twitter: www.twitter.com/findeatdrink