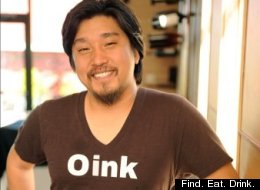 On Monday night the culinary world's equivalent of the Oscars, the James Beard Foundation Awards, were handed out. Find. Eat. Drink. asked the nominees for the coveted Best Chef Award where they would take a visiting chef to eat in their hometowns.
Where James Beard Nominated Chefs Would Take a Visiting Chef To Eat
Best Chef Southeast Hugh Acheson, of Five and Ten in Athens, GA, picks Peaches in Athens. "For a good meat n' three experience." See details

Best Chef New York City Michael White of Marea loves Wondee Siam in Hell's Kitchen. "For #1 Duck Kra Prow (spicy crisp duck, garlic, onion)." See details Photo: Flickr

Best Chef Great Lakes Stephanie Izard of Girl and the Goat in Chicago would take a visiting chef to Avec. "They have this truffled cheese flatbread ["Deluxe" Focaccia with Taleggio Cheese, Ricotta, Truffle Oil and Fresh Herbs]. It's way too big for two people to eat, but you order it and that's how you end up making friends with the people next to you." See details

Best Chef Northeast Matt Dillon of Sitka and Spruce is a regular at Maneki. "It's the oldest restaurant in Seattle, a Japanese restaurant. It happens to be my favorite place to eat. I really like the Black Cod Collar cooked in miso." See details

Best Chef Northeast Matt Jennings of Farmstead and La Laterie in Providence, RI loves local restaurant Nick's on Broadway. Sourced from local Rhode Island farms, created by a chef who lives and breathes all things Rhode Island, and cooked by a team of Johnson & Wales interns, it couldn't really get any more Ocean State than this. It'swell worth the trip to find this out of the way, Rhode Island gem." See details

From chef Edward Lee of 610 Magnolia to chef Mark Ladner of Del Posto, see more recommendations from Best Chef nominees here.
Follow Find. Eat. Drink. on Twitter: www.twitter.com/findeatdrink