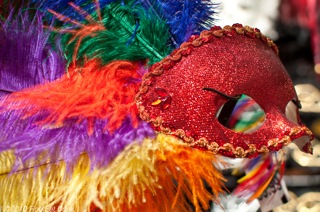 New Orleans may be HQ for next Tuesday's Mardi Gras parades and debauchery, but you can throw your own soiree with chef John Besh's quintessential traditional recipes.
Find. Eat. Drink.'s Mardi Gras Recipes from Chef John Besh
Louisiana native chef John Besh was born on the bayou and now owns six restaurants in the Crescent City. He has become an important ambassador for the state and is the author of My New Orleans: The Cookbook. Over the years I've come to realize the importance of being a good steward of this very great tradition, while spreading the word of its greatness and uniqueness to all who will listen.

Red Beans & Rice: Click here for the recipe This Creole dish was traditionally made on Mondays with Sunday's leftover. Mondays were washing days. You could leave the pot on the stove and do your cleaning and cooking at the same time. Time is the key to making successful red beans: they need to cook slowly and well. Using flavorful fat is another secret. Just as my grandmother did, I keep the fat from every batch of bacon I make.

Jalapeño Cheese Grits: Click here for the recipe. These cheesy grits are the perfect base for almost anything.

King Cake: Click here for the recipe. The sweet, bread-like "cakes" honor Rex, the King of Carnival. Tradition dictates that whomever finds the plastic baby (hidden inside the cake) must provide the next king cake for the group!

Do you have a favorite dish to eat on Fat Tuesday? Please share it with us. Want recipes and recommendations from renowned chefs sent right to your email in-box? Subscribe to the free Find. Eat. Drink. newsletter, just click here.
Follow Find. Eat. Drink. on Twitter: www.twitter.com/findeatdrink