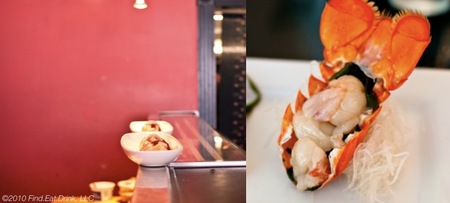 If you care about eating well, Portland, Maine should be on your wish list. There is something very exciting going on with the local food scene. It won't take you long to walk from one end of the town to the other, but you may want to add extra days to your itinerary just for meals. Factor in the local bounty of produce and seafood, add talented well-trained chefs who own their own restaurants, and you've got a true recipe for success. Many of the chefs are James Beard Award winners and nominees, but don't book your reservations based just on those accolades or you'll miss out... there are plenty of restaurants here serving some of the best food in the country.
Download the Find. Eat. Drink. Portland Guide.
Chefs' Tour of Portland, Maine
Portland, Maine is considered one of the most livable cities in the US. High marks for income growth and culture, low levels of crime and unemployment. It has also been given the nickname "America's foodiest small town." People vacation in Portland just to dine. Download the Find. Eat. Drink. Portland Guide.

Many of the chefs in Portland own their own restaurants, having trained all over the world they bring sophisticated, international flavor to their dishes. This whole Mediterranean branzino is from the restaurant Evangeline.

Chef/owner of Evangeline, Erik Desjarlais, combines classic French techniques with high quality, seasonal and local ingredients. He serves local chickens from New Sharon, Maine, that are fed on clabber (curdled milk) and whey. The silver implement is so you can pick it up with your hands. Read more about clabber fed chickens from chef Desjarlais.

Krista Kern Desjarlais owns the critically acclaimed 18-seat restaurant Bresca. Prior to opening in Portland, she worked as a pastry chef at New York's Le Cirque, Gotham Bar and Grill, and Paris' Guy Savoy. She now cooks both savory and sweet.

Becky Rand opened up Becky's Diner in 1991 for the fisherman to have a breakfast spot... the fisherman showed up and so have a few famous folk, like former president Bill Clinton. Chef Erik Desjarlais describes this local spot: Bump elbows with lobstermen, and restaurant workers who are trying to recover from a rough night. The coffee is always hot, and the eggs are cooked right.

Nosh Kitchen owners Jay Loring and Matt Moran truly respect the art of the sandwich. From local chef Erik Desjarlais: Go for the Pig Belly Reuben, bacon dusted frites, and great beers on tap.

Duckfat is the sister restaurant to Hugo's, for which chef/owner Rob Evans won the 2009 James Beard Foundation Best Chef Northeast award. Chef and Master Cheesemonger Matt Jennings (Farmstead, La Laiterie Bistro in Providence) is a fan. You are really here for something cooked in duck fat. Hand cut, Belgian-style French fries. Fried in... you got it... duck fat.

Fore Street opened in the Old Port District in 1996, with an emphasis on local ingredients. In 2004, chef/partner Sam Hayward won the honor of Best Chef: Northeast by the James Beard Foundation. Chef/owner Ana Sortun (Oleana, Sofra Bakery and Cafe in Cambridge, MA.): Sam Hayward is so smart about his ingredients and he goes to all ends of the world to find the best.

Chef/owner Masa Miyake worked in New York at Oceana, and with chef Daniel Boulud before opening up Miyake. You'll see the staff from Browne Trading Company eating here. They know fish, Browne Trading Company provides seafood to chefs like Eric Ripert, Tom Colicchio, and Thomas Keller.

For lobster fans, 555 or Five Fifty-Five serves a truffled lobster mac and cheese. Owners Steve and Michelle Corry moved from Napa Valley to Portland in 2002, having worked at Domaine Chandon and The French Laundry, respectively.

Former architect Guy Hernandez and his wife Stella, opened Bar Lola on the east side of town. Stella concocts well-made creative cocktails, which are a great way to start your night. They offer a five course prix fixe option for $39 and let you pick your own dishes.

Begin or end your night at Novare Res Bier Cafe. 400 bottle selections, 25 rotating drafts. You're bound to see some chefs grabbing a pint.

Rabelais Books has become the hub of the food world in Portland. One of the owners is a former photo editor and pastry chef, the other has been in the book business for three decades.

What's a visit to Maine without trying a lobster roll? The Lobster Shack at Two Lights has been a local landmark since the 1920's. It's on the waterfront in Cape Elizabeth, just a 20 minute drive from the center of Portland.

To read more about Portland recommendations, check out Chef Erik Desjarlais' Local Chef's Guide To Portland. Take it with you... Download the Find. Eat. Drink. Portland, Maine Guide.
Follow Find. Eat. Drink. on Twitter: www.twitter.com/findeatdrink