The 58th International San Sebastian Film Festival started on September 16th and goes through the 25th. Julia Roberts will be there to receive a lifetime achievement award. But, San Sebastian is known more for its Michelin stars than its movie stars. Acclaimed chefs from all over the world make a pilgrimage to this seaside Basque city just for the food. It's not necessary to spend loads of euros to eat well. You can graze on simple and inventive pintxos (Basque tapas), which are made from the freshest local ingredients and will blow your mind. Here is a list from local chefs of places to hit.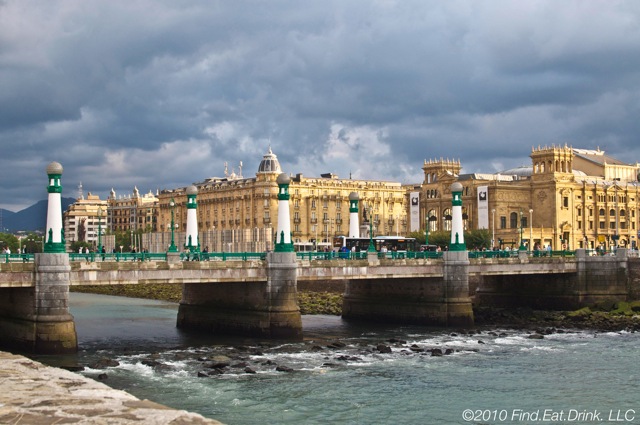 San Sebastian Pintxo Crawl
The stunning Spanish Basque city on the Bay of Biscay was once the playground for European royalty. Aside from beautiful beaches, Belle Epoque architecture, and the prominent yearly film festival, San Sebastian has more Michelin stars per capita than any other city.

But you don't have to spend money on fancy Michelin starred restaurants to get great food. You can eat pintxos (pronounced pin-choss) all over the city. Get more information about San Sebastian and see more pictures.

Twice a day, in the afternoon and early evening, restaurants serve pintxos (think cocktail party canapes). People amble from tapas bar to tapas bar, drinking and snacking. The ritual is called txikiteo. It's bar-hopping Basque style.

A good starting point is a glass of Txakoli (pronounced chac-o-lee). Produced locally, it's a dry, crisp, slightly fizzy white wine. They pour it from above to enhance the spritz. Get more information about San Sebastian and see more pictures.

Many places rely on the honor system. You take what you want from the countertop display and pay when you're ready to move onto the next bar.

A lot of the bars become known for whatever their specialty is, so it's good to have a list to go by. Txepetxa serves delicious antxoas (anchovies). They have many variations, like white anchovies, served on a thick slice of baguette with black olive, piquillo or aioli. Here is a list of places recommended by local chefs.

The morcilla (blood sausage) and fried hot peppers at Goiz-Bargi is cooked to order.

This is not ice cream. It's canutillo de crujiente de queso con anchoa - a crisp cone with fresh cheese and an anchovy. It's definitely savory.

Finish your pintxo and drop you napkin on the floor. It's perfectly acceptable. In fact, it's expected.

After you've filled up on pintxos, head to Zurriola beach for some surfing. Or at least walk along the promenade, where you can watch others riding the waves.< Get more information about San Sebastian and see more pictures.
Follow Find. Eat. Drink. on Twitter: www.twitter.com/findeatdrink