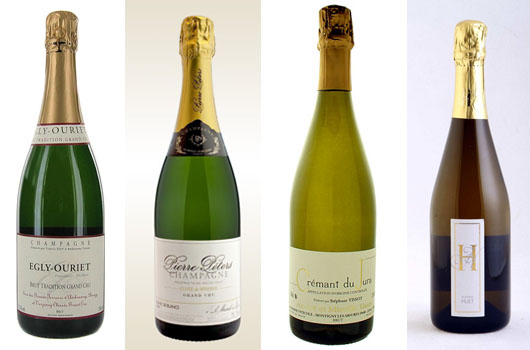 Heading to a party and need an interesting bottle to bring? Looking for the right gift to give to a wine or cocktail aficionado?
The Find. Eat. Drink. Liquid Gift Guide is full of ideas for wine, liquor and accessories based on recommendations from sommeliers, mixologists and chefs. (See entire guide here).
Egly-Ouriet Champagne Recommended by: Joe Campanale (sommelier - Anfora, dell'anima, L'Artusi in New York) Why: Joe says: "It's my go-to wine at home." Price: $50 - $90 (available from these wine stores)

Blanton's Bourbon Recommended by: Jose Garces (chef/owner of Garces Group, including Village Whiskey in Philadelphia) Why: Jose says "I like pairing a caramel-y bourbon alongside a super savory dish, like fried chicken." Price: $40 - $50 (available at these stores)

Leguas 7 Silver Tequila Recommended by: Traci Des Jardins (chef/owner of Jardiniere in San Francisco) Why: Traci says: "Really clean, crisp, and well made." Price: $35 - $49 (available at these stores)

Birra Del Borgo Recommended by: Fred Dexheimer (Master Sommelier / mixologist) Why: Fred says: "It's from Italy and they are doing crazy stuff using tapioca and all different grains and spices." Price: ~$24 (available at: Bierkraft, Bklyn Larder, Eataly NY)

Hidalgo Gitana Manzanilla Recommended by: Cat Silirie (sommelier - Barbara Lynch Gruppo restaurants in Boston) Why: Cat says: "It's as vibrant and appetizing as champagne." Price: $12 - $18 (available at these stores)

Meletti Recommended by: Levi Dalton (Sommelier - Alto in New York) Why: Levi says: "Saffron is one of the ingredients and it comes through as you taste it, along with notes of violets and citrus." Price: ~$16 (available at these stores)

Bittermens Recommended by: Jim Meehan (mixologist - PDT in New York) Why: Jim says: "They are all natural and really well done." Price: ~$18 (available here)

For more suggestions on wines, gin, vodka, cider, scotch and accessories, see the full Drink Gift Guide (click here) at FindEatDrink.com. To get more industry insider recommendations from chefs, sommeliers, and food artisans, subscribe to the free Find. Eat. Drink. newsletter.
Follow Find. Eat. Drink. on Twitter: www.twitter.com/findeatdrink