Farmers markets with strict local and sustainable ingredient rules can be tough on even the most ardent of locavore confectioners. Chocolate is verboten and local nut options are extremely limited, especially if you're in the Midwest. What does a French-inspired chocolatier make for a tightly-regulated farmers market such as Chicago's Green City Market without chocolate, hazelnuts, and almonds?
I stumbled on the answer trying to source ingredients for pate de fruit, a simple yet subtle confection I had fallen in love with in France. Eaten on their own as a candy or as an accompaniment to cheese, these little sugar encrusted fruit treats with a name that has no good translation, come in every imaginable flavor from raspberry to mirabelle plum to date. Whether they are the confection of French royalty, as history books suggest, or simply high-class "Chuckles" as one of my customers has called them, they are as common in a French chocolate shop as croissants in a boulangerie. But they haven't yet enjoyed the same level of name recognition in the United States as, say, the macaron.
That's too bad because they not only make jewel-like holiday gifts, but they highlight the best of local fruit.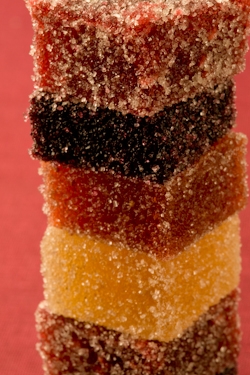 I learned this during a recent trip to France when I was offered a box by a leading pastry chef - one recently selected as one of the ten most influential in the field today. He is a so-called "MOF," a recipient of the "Best Pastry Chefs in France" award that is the subject of a recently-released DA Pennebaker and Chris Hegedus film, Kings of Pastry, that I helped produce.
After two years of following these masters of their craft for the film, I readily concede virtually the entire category of chocolate, and I was ready to throw in the towel on pate de fruit as well. But something told me to wait until I tasted, and when I did, Julia Child's old injunction about cooking with bad wine, came roaring back. When I tasted these treats, something essential seemed to be missing - the sparkle of fresh fruit.
As a student in pastry school, we learned to make pate de fruit with commercial frozen fruit purees. That's how they're generally made in France. Fortunately for my quest to find "locavore" confections that would feature local ingredients and pass the Green City Market's strict rules about local sources, these purees were not a realistic option. The big suppliers - Boiron, Ravi Fruit, and Cap Fruit - are all based in Europe, so they were out of the question as local sources. Besides, they remain relatively inaccessible to the small producers and the culinary enthusiast. Even web sites like Lepicerie.com require rather large quantity purchases since they are sold and shipped frozen.
So as I was preparing to launch my confections business and searching for ways to get a foothold in the Green City Market, I decided to do some experimenting and spent the better part of the summer and fall pureeing my own fruit from local farms in southern Michigan. The results - a confection that is not only more economical but more flavorful across the board.
Apple Pate de Fruit Recipe
For the apple puree:
8 apples peeled and quartered
1 good quality vanilla bean
500 grams apple puree
500 grams sugar or evaporated cane juice
12.5 grams pectin (preferably yellow) (available at www.lepicerie.com)
100 grams corn syrup or glucose (available at www.lepicerie.com)
7.5 grams of tartaric acid (available at www.lepicerie.com) or lemon juice
1. Make the puree by placing apples in a large saucepan with a small amount of water to prevent them for scorching. Split the vanilla bean and scrape the seeds into the pot. Steam apples until the apples are soft and can be pureed easily.
2. Lightly oil an 8 by 8 square baking pan with an unflavored oil like grape seed oil.
3. Mix 50 grams of the sugar with the pectin, making sure no clumps of pectin remain.
4. Heat 500 grams of the apple puree in a 5 quart saucepan until it reaches 40 degrees Celsius.
5. Add the pectin and sugar mixture, stirring with a wire whisk to make sure it is well dissolved.
6. Add the remaining sugar and the glucose and continue to stir vigorously.
7. Continue stirring until the mixture reaches 106 Celsius. The mixture will begin to pull away from the sides of the pot and you will be able to see the bottom of the pot briefly when the whisk traces a line across it.
8. At 106 Celsius pour the mixture into the baking dish and let it cool.
9. When the mixture is completely set, spread some granulated sugar on it to make it easier to handle. Cut around the edges to release the fruit paste in a single piece from the pan. The bottom will be tacky, so spread some additional sugar on it.
10. Cut into 1 inch squares and dust all edges of each square with additional sugar.
SUBSCRIBE TO & FOLLOW LIFESTYLE
HuffPost Lifestyle is a daily newsletter that will make you happier and healthier — one email at a time. Learn more