Despite recent reports, it is not all doom and gloom for travelers who have yet to book flights home this Christmas.
As families across the United States get ready to travel for the holidays, new research from Fly.com™ has identified numerous flights that will save last-minute bookers money on holiday airfare compared to last year.
Of the 124 popular routes that Fly.com reviewed, 44 percent are cheaper than 2012, with some roundtrip tickets costing over $100 less this year.

Fly.com's latest data study found that certain parts of the U.S. offer more opportunity for airfare savings than others. Travelers flying out of San Francisco and Phoenix can capitalize on average savings of $57.25, and airfares from Dallas are as much as $86 cheaper than the average 2012 pricing for the same holiday travel period.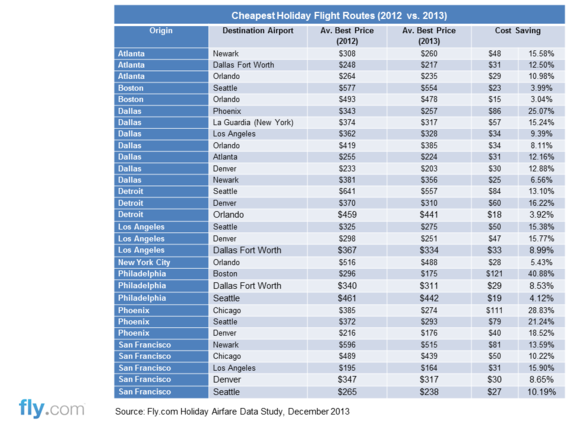 In terms of where to go, Seattle and Denver are consistently the most affordable destinations this year. Flights to both cities, which each boast nearby ski resorts, are up to $84 and $60 cheaper (respectively).
However airfares to popular winter hot spots like Miami and Fort Lauderdale are experiencing a 12.79 percent increase in price. Although travelers from Atlanta, Boston, Dallas, Detroit and New York can still experience the Florida sun with deals to Orlando.
Happy Travels!
- - Michelle Erickson is the director of public relations at Fly.com and is based in California. A British native, Michelle has lived on three continents and is an avid traveler.