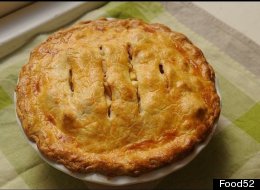 There's hardly a holiday more patriotic than the Fourth of July. As the sun sets, the burgers grill, and the red, white, and blue streamers fly, it's hard not to think back to that fateful night almost 240 years ago when the USA was born. Or, if you're not feeling quite so sentimental, you'll at least be excited by the sky-sweeping fireworks, juicy watermelon, and good company.
However you celebrate the Fourth, there's no holiday more appropriate for enjoying your favorite classic American dishes. Taken together, these 10 regional and country-wide recipes showcase the quintessential dishes that define American home-cooking.
More from Food52:
• How to Grill Any Steak in 5 Steps
• 9 Summer Party Drinks
• Got a question in the kitchen? The Food52 Hotline is here to help!
Brought to you by the spirited home cooks' community at Food52.
10 Classic American Dishes for the Fourth of July
Get the recipe on Food52. This is a fried chicken recipe you just can't mess up. A speedy rosemary lemon brine keeps the chicken flavorful and moist. Because of this (and its ultra-crispy buttermilk battered crust), the chicken will hold well in a warm oven for a couple hours before guests arrive, giving you plenty of time to wipe down the stove, shower, and pour yourself an early glass of wine. - Genius Recipes Photo: James Ransom

Get the recipe on Food52. The fresh, bold flavors in the salad are the reason for its success, and grilling the potatoes can distract from this. But by all means use the grill if you'd like -- just blanch the potatoes first, and then finish them on skewers on the grill for a few minutes. - Merrill Photo: Sarah Shatz

Get the recipe on Food52. My favorite summer sandwich, the classic egg salad, just got a whole lot better. A few months ago, I discovered the most marvelous spice, seed and nut blend, called "dukkah," as well as the excellent recommendation to eat it with eggs. I've been hooked, and I mean really hooked, ever since. This recipe is for a basic egg salad, which I make using my homemade garlic and mustard aioli. A fat pinch of dukkah and a small handful of peppery watercress or arugula utterly transform it. - AntoniaJames Photo: James Ransom

Get the recipe on Food52. When it comes down to it, this salad has entirely the same character as your standard caesar salad, the same sturdy crunch to the greens and the tangy bite of the dressing -- everything that makes caesar's hail-worthy. But then there's avocado. And everything is better with avocado. It's a simple truth. - fiveandspice Photo: James Ransom

Get the recipe on Food52. This recipe is a perfect showcase for your finest, in-season crab. And sure, you can roast your own red peppers if you like. But we made these with some good quality canned crab and jarred pimientos, and they still turned out to be fresh little bites of summer -- great news for people far from crabs, or crab season. - Genius Recipes Photo: James Ransom

Get the recipe on Food52. By combining her Southern sensibilities with the restraint of her French training, Virginia Wills' deviled eggs just do everything right. There is a secret ingredient here, one that Willis picked up in culinary school: butter, just a tad. Mixed in while it's soft, it rounds and smooths over the more acidic ingredients and renders the filling creamy without overtaking it. - Genius Recipes Photo: Food52

Get the recipe on Food52. This pie is an homage to apples in their purest form. It uses no cinnamon or nutmeg to cloak their sweet perfume; instead, brown some butter complements the apples with a faint nuttiness. The crust is tender and flaky, with a muted burst of cheddar breaking through towards the end of each bite. - Amanda & Merrill Photo: Melanie Einzig

Get the recipe on Food52. OK, admit it. You're at the party. You've had your crostini and cheeses, your seafood, your meatballs. You sampled the olives and nuts; the caviar and pate; you ate way too much prosciutto. Aren't you dying for something sweet? Decadent, chocolate, rich. So delicious that one small bite satisfies. Here you are: Chocolate. There are some suggestions for customizing these, but really, the beauty of this recipe is that you can make it your own. - drbabs Photo: Sarah Shatz

Get the recipe on Food52. Here's a recipe for double-layered fudgesicle. It starts with a spiced dark chocolate base from the Mexican Chocolate Pops and then is finished off with a milk chocolate layer spiked with vanilla bean for a two-tone effect. - Merrill Photo: William Brinson

Get the recipe on Food52. This hot dog has been elevated to a higher plane, first swathed in bacon, then nestled on a bed of tangy, spicy bean sprout slaw. The sprouts are softened into submission with a handy salting technique, then tossed with sweet shredded carrot, cilantro, red onion, jalapeno and rice wine vinegar. The acid in the slaw cuts through the salt and the fattiness of the hot dog, and a sriracha-laced mayo stands in for more quotidien condiments. A shower of roasted peanuts and some chopped scallions make this Yum Dog as pretty as it is tasty. - Amanda & Merrill Photo: Sarah Shatz
Food52 is a community for people who love food and cooking. Follow them at Food52.com -- and check out their new kitchen and home shop, Provisions, to get $10 off!
Follow Food52 on Twitter: www.twitter.com/food52