8 Mother's Day Edible Gifts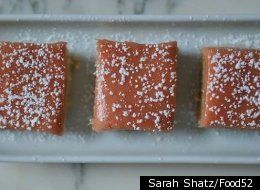 The countdown is official: with less than a week to go, we're closing in on Mother's Day. In the spirit of crunch time, we've searched our archives high and low for DIY gifts that will make for happy mothers everywhere. So, in case you can't make her breakfast in bed, here are eight ideas to whip up, wrap up, and tie a bow on to show her just how thankful you are.
Browse through more Mother's Day gift ideas on Food52.
8 Mother's Day Edible Gifts
On top is a silky and tangy blanket of rhubarb curd (made just like lemon curd) and beneath is a pad of thick and crumbly spiced shortbread. Genius!. - Amanda and Merrill Get the recipe Photo: Sarah Shatz

This is the kind of adult walnut confection that should be served at your favorite cocktail bar. -favabean Get the recipe Photo: James Ransom

Two warnings about these cookies: don't give them to young children before bedtime and don't leave them lying around (if you want any left for yourself). - Amanda and Merrill Get the recipe Photo: Sarah Shatz

This recipe is like muesli after a vampy makeover. Olive oil, maple, brown sugar and coarse salt form a rich, shaggy crust on wholesome innards like oats, pecans, and coconut shards. - Genius Recipes Get the recipe Photo: James Ransom

These puffs are like the best doughnut holes you've ever eaten. Cakey and light, with crisp edges and a crunchy blanket of cinnamon sugar, they're gently spiced, with a murmur of orange zest. - Amanda and Merrill Get the recipe Photo: Nicole Franzen

This is a crisp almond cookie for all your gifting, swapping, and impressing needs. - Genius Recipes Get the recipe Photo: James Ransom

"This recipe comes from my mother and started out very 1960s," says cook drbabs. Crisp from the oven and rich from cheddar cheese, your mother will love this new, updated version. Get the recipe Photo: James Ransom

Throughout my life as a cook, I've gravitated to bread recipes that do not involve yeast or rising of any kind. I'm sharing one such recipe for what are quite simply the best biscuits I have ever made. - Merrill Get the recipe Photo: Sarah Shatz
Follow Food52 on Twitter: www.twitter.com/food52