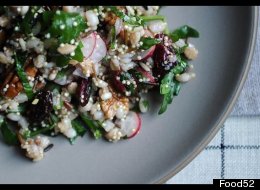 Once a year, we get to celebrate Mother Earth by recycling, planting trees and eating lots of salad. Make this Earth Day your tastiest yet, with super-crunchy recipes that still taste amazing. Tie-dye shirts are optional.
More from Food52:
• Welcome spring with these 7 rhubarb recipes.
• Make your own kale chips.
• Got a question in the kitchen? The Food52 hotline is here to help!
Brought to you by the spirited home cooks' community at Food52.
8 Super-Crunchy Earth Day Recipes
Get the recipe on Food52. This recipe is like muesli after a vampy makeover. Olive oil, maple, brown sugar and coarse salt form a rich, shaggy crust on wholesome innards like oats, pecans, and coconut shards. - Genius Recipes Photo: James Ransom

Get the recipe on Food52. If you've never tried kale salad before, here's the trick: you "massage" your greens with dressing. This helps to wilt the kale ever so slightly, and if you can get over the hilarity of tenderly rubbing down a vegetable, you'll quickly understand why raw kale salads are all the rage. - Gena Hamshaw Photo: James Ransom

Get the recipe on Food52. This is a decadent, delicious egg and dairy-free dessert that will satisfy even the most discerning chocoholics. If you don't tell, they'll never know it's avocado-based. - zindc Photo: James Ransom

Get the recipe on Food52. Take the chill off of those brisk spring mornings with this creamy, rich, and sweet bowl of quinoa porridge. Nutrition nerds, take note: this dish is rich in fiber and complete protein! - Gena Hamshaw Photo: James Ransom

Get the recipe on Food52. This dish is all about contrast. Subtly spicy mizuna meets sweet, crispy snow peas, while earthy, salty tempeh is layered on top of cool, crispy greens. Serve either as an appetizer or as a meal. - Gena Hamshaw Photo: James Ransom

Get the recipe on Food52. Lassi is a very common drink in India. You can drink this anytime, no matter the season or time of day. It's perfect for the end of the day pick me up or just something to get you through the weekend. - mansuri Photo: Nicole Franzen

Get the recipe on Food52. This is the kind of salad that sounds like a starchy do-gooder, but it has grace and conviction, and you'll want to eat it every day for lunch. - Amanda Photo: Sarah Shatz

Get the recipe on Food52. These bars are chewy and rich, a jumble of nuts, cereal, seeds and dried fruit barely held together with almond butter and honey -- no baking involved. - Merrill Photo: Sarah Shatz
Follow Food52 on Twitter: www.twitter.com/food52