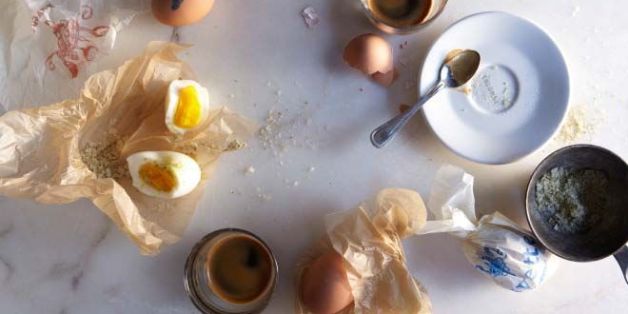 All week long on Food52, Jody Williams, the chef at New York's beloved Buvette restaurant, will be sharing recipes from her new book, Buvette: The Pleasure of Good Food.
Today: An elegant -- and cleverly salted -- way to pack up your eggs.
This idea was inspired by the Italian Easter tradition of wrapping chocolate eggs in colorful paper with a surprise inside. At Buvette, I use a vintage wire egg basket to hold hard-boiled eggs that are wrapped in brown paper.
To make hard-boiled eggs less ordinary, a pinch of seasoned salt goes into the center of a square of parchment paper, and the egg is placed on the parchment with the seasoned salt. When it's all wrapped up, the egg and seasoned salt become a portable snack that can be put in your pocket and enjoyed anytime hunger strikes.
Serves as many as you would like
Eggs
Seasoned Salt
Place the eggs in a small saucepan and cover with cold water. Set the pot over high heat and bring the water to a boil.
Cook the eggs for 2 minutes, turn off the heat, and cover the pot. Let the pot sit for 5 minutes, then drain off the water and let the eggs sit until they're cool enough to handle.
Wrap the eggs with a pinch of the seasoned salt in parchment paper as described above, if you'd like.
When you're ready to feel like you are out on a picnic, unwrap the parchment, spread it out like a little place mat, peel the egg, and dip it into the salt as you eat. When you're finished, you can wrap up the shell in the paper and toss it in the trash -- easy cleanup!
Save and print the recipe on Food52.
Photo by Gentl & Hyers. Excerpted from the book BUVETTE by Jody Williams. © 2014 by Jody Williams. Reprinted by permission of Grand Central Publishing. All rights reserved.
This article originally appeared on Food52.com: Buvette"s Boiled Eggs with Seasoned Salt.
Food52 is a community for people who love food and cooking. Follow them at Food52.com -- and check out their new kitchen and home shop, Provisions.