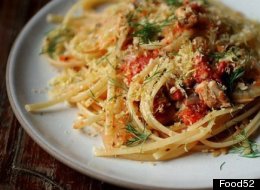 Fennel isn't one of those vegetables you have to make yourself forget once winter rolls around. This is a lucky thing, because its anise-y aroma and crunchy texture are an excellent complement to so many foods and flavors. These six fennel dishes show fennel's great range of possibilities -- this veggie is equally delightful in a light, refreshing salad as it is in a cheesy baked gratin.
These recipes are especially great if you're vegetarian or vegan. Generally just a vegetable lover? Food52 is always digging up the facts on all sorts of fruits and veggies. Brought to you by the spirited home cooks' community at Food52
I love the mellow taste of roasted fennel and almonds together, and think the orange-soaked raisins add a nice bit of sparkle to this otherwise rich side dish which I like to serve with roasted chicken. Using a vegetable stock, or water, for the couscous does lighten it up a bit. - Jennifer Ann Photo: MelanieEinzig Get the recipe on Food52.

You simmer the white beans (we used canned) in a fragrant garlic-and-rosemary oil. You blend the beans and fennel with more oil so the mixture lightens like a good whipped salt cod and potato puree. And, finally, you spoon it all into a baking dish, cover it with cheese, and slide it into a hot oven so the top of the dip toasts, leaving you with a crisp veil over the pillowy dip. You won't even remember the work that went into it once you're showered with praise. - A&M Photo: Sarah Schatz Get the recipe on Food52.

When we tasted lastnightsdinner's rich, sea-infused pasta, our first thought was: "It's amazing that you can make something that tastes this good using fish from a can!" This simple, pantry dinner (the only thing you may have to shop for is the fennel) packs a punch with just a few ingredients. - A&M Photo: Sarah Schatz Get the recipe on Food52.

The perfect lovechild of creamy and crispy potato sides. You first braise potatoes and fennel in cream, then perk them up with olive oil, chopped herbs, orange zest and pecorino before broiling them for a spell. It's no more difficult than your average holiday potatoes and will -- quite frankly -- blow your guests' minds. Oh, and save that cream! You can drizzle it over roast chicken or cooked greens or fold it into mashed potatoes another day. - A&M Photo: James Ransom Get the recipe on Food52.

This is going to be one of my favorite new trusty side dishes. It is simple, scrumptious and moreish. Don't let the thought of anchovies put you off making this ...they add so much dimension to the sauce and don't leave a hint of fishiness. Absolutely exquisite dish!. - thehappycook Photo: James Ransom Get the recipe on Food52.

I eat some version of this salad every day for lunch, but this is the version that I make for special occasions. When possible, I get celery for this recipe from the farmer's market. It's thinner, greener and leafier than your average grocery store celery, with an intense celery flavor. I'm addicted. The toasted celery seeds and hazelnuts work well with the cool vegetables. I add slices of blue cheese or avocado slices to the salad for my lunch or serve it as is as a side to roast chicken or fish. - maryvelasquez Photo: James Ransom Get the recipe on Food52.
Follow Food52 on Twitter: www.twitter.com/food52