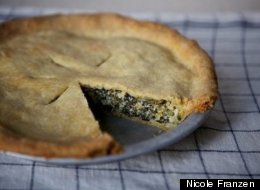 Being a vegetarian on Thanksgiving can be a bit nerve-wracking -- and so can hosting one. This year, we've got you covered with ten tasty vegetarian dishes that will please your meat-free guests and impress the most skeptical of omnivores. We've even thrown in gravy and stuffing to boot -- you wouldn't want any of your guests eating gravy-less potatoes.
The best part of all of this? Vegetarians like pumpkin pie. And pecan. And apple. Just please, whatever you do, hold the Tofurkey.
•Take the stress out of hosting Thanksgiving with these five tips.
•Serve a delicious vegan pumpkin pie that will please everyone at your table.
•Got a question in the kitchen? The Food52 Hotline is here to help!
Brought to you by the spirited home cooks' community at Food52
10 Turkey Alternatives For Thanksgiving
To make this delicious, hearty dish a lot more accessible, try cooking the lentils and prepping the vegetables one day in advance. On the day of assembly, mash the potatoes and parsnips early in the day, and sautee the veggies and assemble the pie later on, before dinner. Leftovers can easily be frozen. -- Gena Hamshaw Get the recipe Photo: Linda Xiao

This cheesy, whole wheat crust is tender and lovely, a perfect foil for the sweet, onion-loaded filling. The sherry vinegar keeps the whole tart balanced. And just like french onion soup, this tart is deeply satisfying... but not so rich that you can't eat two slices. -- Amanda & Merrill Get the recipe Photo: James Ransom

Vegetarians (and friends of vegetarians) will like this dish because it's a celebratory meatless main dish. Where's the boeuf? Who cares? -- Kristen Get the recipe Photo: Linda Xiao

Nothing heralds the arrival of autumn like a rustic tart, the perfect centerpiece to any harvest table. This innovative cornmeal version, brimming with delicate leeks and hearty greens, is reason alone to turn your oven back on. -- Kukharka Get the recipe Photo: Nicole Franzen

These crispy lentil cakes are flavorful and impressive. Serve them atop rice as a complete meal, or on their own as a side dish. Spice things up by adding chili flakes or cayenne to the cakes, the sauce, or both. -- Amanda and Merrill Get the recipe Photo: Tom Hirschfeld

Rustic yet full of nuance, this galette coaxes sweetness from the winter squash and roasted garlic, complementing them with the right blend of salty creamy cheese, fragrant thyme and a delicate, buttery crust we're sure to adapt to many other recipes. -- Amanda & Merrill Get the recipe Photo: Food52

This delicious and beautiful dutch baby boasts well-balanced flavors of sweet pear, smoky cheese and subtle leeks. The batter is velvety smooth and bakes up perfectly in a cast iron skillet. Some recipe testers have had success decreasing the butter used to prepare the skillet to four tablespoons. -- Amanda & Merrill Get the recipe Photo: William Brinson

This dough is a snap to put together and roll out, and it yields such a wonderfully flaky yet sturdy crust. When these emerge from the oven, fragrant and golden, it takes some effort not to scarf one down immediately. -- em-i-lis Get the recipe Photo: Joey de Leo

No one would ever guess that this is a vegetarian stuffing, and why should it matter? It's rich yet light and teeming with fresh herbs -- a wonderful dish for everyone. -- Amanda & Merrill Get the recipe Photo: Food52

This mushroom gravy solves nearly every Thanksgiving dilemma there is. It's vegetarian-friendly, requires no pan drippings, and comes together in no time, yet hides deceptively deep layers of flavor -- umami-rich dried mushrooms fortify the stock, and sauteed shallots, soy sauce, fresh thyme and sherry round out the rich but balanced sauce that we'd like to pretend is actually a soup. -- Amanda & Merrill Get the recipe Photo: Food52

Get answers to your burning Thanksgiving questions on the go with our free FOOD52 Hotline iPhone app.
Follow Food52 on Twitter: www.twitter.com/food52