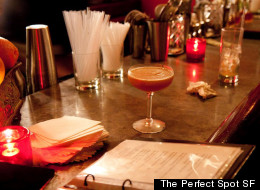 By Justine Sterling, Food & Wine
With lightly sweet flavors and a soft fizziness, hard sparkling ciders from American craft producers are a fantastic fall alternative to sparkling wine or soda water in cocktails. At Woodberry Kitchen in the Chesapeake Bay, Maryland ciders are served both by the glass and in the restaurant's locavore cocktails such as a Whiskey Smash with a semi-sweet cider produced just an hour and a half from the restaurant. "Distillery Lane's Celebration Cider is made in a style much like what our founding fathers drank in colonial times," says beverage director Corey Polyoka. "They press whole apples in an old wooden press and ferment it completely dry (until all sugar has been converted to alcohol)."
Slideshow: America's Best Bars

Polyoka preps his version of a Whiskey Smash in the reverse order of most fizzes. Bartenders mix housemade bitters and sparkling cider into a tumbler with three large ice cubes. Then they shake high proof bourbon, local honey, fresh lemon juice and rosemary and add it to the glass. "Normally cocktails are made up of tastes from around the world--cordials from Europe, spirits from all over, yuzu, all these crazy citruses," Polyoka says. "This cocktail's flavors have a sense of place."
American Sparkling Cider Cocktails
Located in the Seattle Art Museum, the sustainable restaurant debuted its Autumn Memories cocktail during Washington State's recent Cider Week. Inspired by fall in the Northeast where he's from, bartender Duncan Chase blends Root (an herbal spirit reminiscent of root beer) with nutty, maple-scented Amber Liqueur, tops it with crisp Blue Mountain Dry Creek Hard Cider, and serves it in a flute. Photo from Wikimedia.

The Williamsburg bar/distillery serves the tart, fizzy Blind Love: Pisco shaken with a locally made black currant cordial, fresh lemon juice and Bittermens Burlesque Bitters, made from hibiscus, açai berry and spicy long pepper. The chilled mixture is strained into a Collins glass filled with ice and topped with Doc's Draft Hard Apple Cider, a semi-dry cider made in upstate New York. Photo from NY Distilling.

The fall menu at this bustling Austin pub features a seasonal riff on a French 75. Appropriately named the Autumn '75, the drink uses locally produced Argus Cidery's bone-dry sparkling apple cider in place of Champagne. Bluecoat American Dry Gin, cranberry-pear shrub and pear liqueur are shaken with ice and strained into a Champagne flute, topped with cider, and garnished with candied cranberries. Photo from Wanderfly.

This bar within a bar uses Murray's Cyder, a French-style sparkling cider from nearby Petaluma, in the bittersweet Killer's Lullaby. The semi-dry cider is mixed with navy strength gin, honey, lemon juice and gentian aperitif (a bitter spirit flavored with gentian bark). Served over ice in a Collins glass. Photo from The Perfect Spot SF.
More from Food & Wine:
More of America's Best Cocktail Bars
America's Best Beer Bars
Best Pizza Places in the U.S.
Best Burgers in the U.S.
Best Fried Chicken in the U.S.
Follow Food & Wine on Twitter: www.twitter.com/fandw