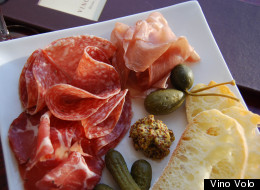 By Food & Wine
Sluggishly slow ticketing lines, airport security... and a great meal? F&W's ultimate airport dining survival guide features the best places to eat and drink in airports around the country, from Carolina-style barbecue in Charlotte and fresh sushi in San Francisco, to the culinary juggernaut that is Terminal 5 in NYC's JFK airport (a brasserie, a tapas joint and yakitori). Here, Food & Wine highlights America's best airport dining spots.
More from Food & Wine:
America's Best Bars
Best Burgers in the U.S.
Best Steak in the U.S.
Best Pizza Places in the U.S.
Best Fried Chicken in the U.S.
Best Ice Cream Spots in the U.S.
America's Best Airport Dining Spots
Terminal 5 · When it opened in 2008, JetBlue's Terminal 5 became the undisputed leader of this new era of preflight pampering. There's the loungey sushi bar (Deep.Blue), the high-end steak house (5IVESTEAK), the Spanish tapas joint (Piquillo), the modern-Italian trattoria (Aero Nuova) and the petite Parisian brasserie (La Vie), each with a menu designed in consultation with a talented local chef. At Aero Nuova, New York City star chef Mark Ladner created dishes like grilled Berkshire pork chops and warm radicchio bruschetta. Plus: America's Best BBQ Cities Photo © John Bartelstone

Central Terminal Building · At the pre-security food court in the Central Terminal Building, F&W Best New Chef 1990 Todd English has an outpost of his Boston pizzeria Figs. It has a view of departing planes and a menu with sandwiches, salads and pizzas with toppings like fig and prosciutto. Plus: Best Pizza Places in the U.S. Photo © Todd English Enterprises

Terminal C · Vino Volo This growing chain of cushy airport wine bars serves small plates of cheese, cured meats, olives, and dishes like chilled paella and duck-confit-and-lentil salad. The food is available to go, and you can also order wines you've tasted for home delivery. Also in Continental's Terminal C, Gallagher's Steak House recalls the Manhattan original (dark wood, red-checkered tablecloths), and serves steaks, burgers and a fine selection of wines. Plus: Best Steak in the U.S. Photo courtesy of Vino Volo

Terminal A · Legal's Test Kitchen Legal Sea Foods, a Boston institution, runs this 80-seat restaurant that tests out new dishes for the restaurant company and offers take-out salads, wok stir-fries and sandwiches as well as Legal classics like clam chowder and fish and chips. Terminal B · F&W Best New Chef 1990 Todd English was one of the first professional chefs to move into modern airport dining, serving dishes like fish tacos at his global-inspired Bonfire. Plus: Best Taco Spots Photo © Todd English Enterprises

Terminal A-West, C, and E · Lively South Philly crab house, Chickie's & Pete's, now operates several airport outlets specializing in the original's chowder, steak sandwiches and Crab Fries--french fries seasoned with crab-boil seasoning and served with a creamy cheese dipping sauce. Hallway between Terminals B and C; between Terminals D and E; and Concourse B · There's also an outpost of Vino Volo, a growing chain of elegant airport wine bars serving small plates, cheeses, olives and cured meats, as well as bottles, glasses and flights of wine. Plus: 50 Best Bars in America Photo © Sandy Macys/Alamy

Terminals A and B · Washington, DC-based chain Five Guys makes flavorful burgers and hand-cut fries to order and offers free peanuts. Concourses B and C · Like Newark Liberty and Philadelphia International, Dulles has welcomed a Vino Volo tasting room. This one offers a tasting flight of wines produced nearby in Virginia. Plus: Best Burgers in the U.S. Photo courtesy of Five Guys

Terminal D · The US debut of the Belgian wine bar Beaudevin serves Mediterranean food to eat there or packed to go. The extensive wine list rotates seasonally. Click Here for More of America's Best Airport Dining Spots Photo Courtesy of Beaudevin
Follow Food & Wine on Twitter: www.twitter.com/fandw