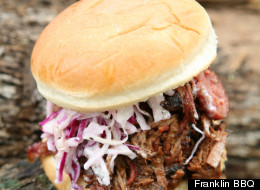 By Food & Wine
Few topics inspire as much fiery passion as barbecue. The style may vary across the country, but two ingredients remain the same throughout: smoke and meat, a powerful combination that's enticed eaters since ancient times. Today, barbecue is a deeply rooted part of American culture, with regional 'cue preferences speaking to a city's history, geography and taste. Here, Food & Wine highlights America's best BBQ cities.
More from Food & Wine:
America's Best Bars
Best Burgers in the U.S.
Best Steak in the U.S.
Best Pizza Places in the U.S.
Best Fried Chicken in the U.S.
Best Ice Cream Spots in the U.S.
America's Best BBQ Cities
Here, it's all about the supremacy of the meat, seasoned simply with salt and pepper and smoked over oak wood. Sauce is discouraged for slow-cooked beef brisket, black and crackled like bark on top and pink-tender within; spicy hand-cranked sausages (known locally as "hot guts"); and hulking slabs of pork ribs, heaped onto plastic trays with pickles and white bread. In Austin, buzzy Franklin BBQ's Aaron Franklin spends 14 hours smoking his salt-and-pepper-rubbed brisket, which usually sells out in less than three. A classic institution built in 1924, Smitty's in Lockhart is cavernous and dark, with smoke pits turning out remarkable fatty brisket and leaner shoulder clod, all served sans silverware. Plus: Best Burgers in the U.S. Photo courtesy of Franklin BBQ

Lesser-known than Central Texas 'cue but equally delicious, East Texas BBQ uses sweet-tangy sauces. Both beef and pork are slowly smoked over hickory wood, roughly chopped rather than sliced and served on a bun with thick tomato-based sauce. Tender, fatty pork shoulder, glazed pork ribs, smoke-kissed brisket and spicy sausages are popular in these parts. In Dallas, Smokey John's BBQ & Home Cooking makes excellent hotlinks, while Mike Anderson's BBQ House specializes in brisket; two hours west in Tyler, there are award-winning pork ribs--and a line to match--at Stanley's Famous Pit Bar-B-Q. Plus: Best Steak in the U.S. Photo courtesy of Stanley's Famous Pit Bar-B-Q

South Texas barbecue takes its lead from Mexico, incorporating flavors and techniques from south of the border. The defining dish in this area is beef barbacoa, traditionally whole cow head wrapped in maguey leaves or foil and cooked overnight in an underground pit filled with hot coals. The fall-apart tender meat is then served in tortillas or simply on a plate, covered in cilantro, onions and salsa. Real pit cooking is rare these days due to Health Department regulations, but tiny, family-run Vera's is one of the few establishments whose pits were grandfathered in. There, customers find tender mesquite-smoked barbacoa by the pound, along with homemade salsa and tortillas, but plan ahead--Vera's is only open on weekends. Plus: Best Taco Spots Photo of Vera's © Robb Walsh, ZenBBQ.com.

This beloved BBQ capital is famous for its sweet tomato-and-molasses-based sauce, poured on everything from pulled pork sandwiches and beef and pork ribs to smoked chicken and turkey. Restaurants here will smoke just about everything, usually over hickory wood. Burnt ends, flavor-packed nuggets cut from the end of smoked brisket and slathered in the tangy sauce, are a local favorite, and no platter is complete without a side of spicy-sweet baked beans. Key stops include century-old Arthur Bryant's, which Calvin Trillin once declared "the best restaurant in the world," and Oklahoma Joe's, situated, uniquely, inside of a gas station. Plus: 50 Best Bars in America Photo courtesy of Oklahoma Joe's.

The opposite side of Missouri favors grilled meats, lavished with a tomato-based, sticky-sweet barbecue sauce. The city's namesake dish, St. Louis-style ribs, are pork spareribs trimmed into neat, easy-to-eat rectangles. Another local specialty is the barbecued pork steak, a thick slice of shoulder meat that's seared and then slow-cooked in a tomato-vinegar sauce. Perhaps the oddest St. Louis BBQ dish is the crispy snoot, a deeply smoked pig snout that's either served as a starter or piled onto a sandwich. Family-run Roper's Ribs has been doling out slow-hickory-wood-smoked ribs, rib tips and crispy snoots since 1976; C&K, a perpetually crowded takeout joint, started serving pig ears and ribs doused in a thin, spicy sauce back in 1963. Plus: BBQ Ribs Recipes Photo courtesy of Roper's Ribs.

Western Carolina BBQ, also known as Lexington-style after the city that popularized it, is squarely focused on wood-smoked pork shoulder, chopped or sliced. It's kept juicy and sweet with heavy applications of a ketchup-and-vinegar-based sauce, and often served in sandwiches topped with a finely minced cabbage slaw. Make sure to ask for some outside brown--the crunchy, caramelized bits from the outside of the shoulder--on your plate. In Lexington proper, off Highway 29-70, no-frills Lexington Barbecue has pitmasters who expertly smoke pork shoulder and little else; in Greensboro, Stamey's Old Fashioned Barbecue makes the best sandwich in town, topped with a pleasantly vinegary slaw and served on paper plates. Plus: Best Sliders in the U.S. Photo of Lexington Barbecue © Marcus Nilsson.

Eastern Carolina BBQ makes judicious use of the whole hog, quite literally--the entire pig is slowly smoked over hardwood coals, its tender meat finely chopped and mixed with bits of crispy cracklings. The unadorned pork is the star, and it's served with a thin, astringent vinegar-and-pepper dressing. Eastern Carolina BBQ is nearly always served with a mayo-based coleslaw, fried cornmeal hush puppies and a tall glass of supersweet iced tea. The Pit in Raleigh is a touch more refined than many 'cue restaurants, but their pork is soulful and smoky, while Skylight Inn in Ayden, known locally as Pete Jones' Barbecue, has been serving whole hog BBQ in a landmark building for over 50 years. Click Here for More of America's Best BBQ Cities Photo of The Pit © Marcus Nilsson.
Follow Food & Wine on Twitter: www.twitter.com/fandw