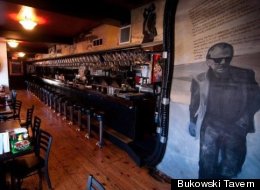 By Justine Sterling, Food & Wine
In the dark days before the craft beer boom of the 1980s, much of the beer sold in America was as uninspired as the generic bars that served it. But now historic beers, micro bottlings and hyperlocal selections fill bars worth traveling to. Here, Food & Wine names America's best beer bars.
More from Food & Wine:
America's Best Bars
Best Burgers in the U.S.
Best Pizza Places in the U.S.
Best Fried Chicken in the U.S.
Best Steak in the U.S.
Best Sliders in the U.S.
To help customers keep track of the 50 beers on tap at this Garden District tavern, bartenders provide frequent drinkers with punch cards. Those who try all 50 (over the course of multiple visits) get their name on the bar's "plaque of adventurers." Louisiana draughts are well-represented on the list, with offerings like Tin Roof's citrusy Perfect Tin and NOLA Brewing's Hopitoulas, a West Coast--style IPA. The outdoor patio features a beer tap water fountain made out of taps collected from breweries across the country. Plus: America's Most Over-the-Top Burgers Photo © Jayne Levinson.

Named for the place where chef-owner Sang Yoon first tasted good beer (his own father's office), the upscale pub goes by the motto "Beer Makes You Strong." Both the original Santa Monica location and the newer--and more spacious--Culver City spot have draught-dominated menus divided by beer style: malty, hoppy and yeasty/spicy, with a separate menu for rare, primarily Belgian beers like the herbaceous Brasserie DuPont Saison Foret (the world's only certified organic Belgian ale). Deciding what to eat is a much simpler endeavor: Chef Yoon's dry-aged burger topped with Gruyère and blue cheeses, arugula and applewood-bacon compote is widely regarded as one of the best in the country. Plus: America's Best Tailgating Cities Photo © Mark Manguerra.

The hard-drinking author for whom the bar was named would surely belong to the frequent-drinkers program. After drinking 120 of the tavern's beers within six months, regulars get their own mug, which is hung on the back wall and reserved for their use. Some of the lesser-known highlights include Smuttynose's funky Brett & I (brewed with Brettanomyces, a wild yeast that gives the beer a slightly sour flavor) or the house beer, The Buk pale ale, a collaboration between Worcester's Wormtown Brewing Co. and the tavern's staff. Wavering customers can leave their pint up to fate by spinning the "wheel of indecision." Plus: America's Best Bars Photo courtesy of Bukowski Tavern.

Beer doesn't get more local than this pub's house-brewed selections, like the nutty Guy Smiley, made with fresh coffee, or Sunburst, their bright, citrus-packed summer ale. The 75-beer-strong list further draws lines on weekend nights, and cask beer enthusiasts geek out on Firkin Fridays when a different cask-conditioned beer is tapped every week, like the intensely hoppy Deviant Dale's IPA from Oskar Blues. Plus: Best Burgers in the U.S. Photo © Lisa Aurigemma.

The term "blind tiger" refers to a speakeasy, but this old-school West Village pub is far from under the radar. Built from salvaged 19th-century wood, the bar appears to have been in operation for ages, though it's only been in its current location since 2006. Both eager NYU students and beer enthusiasts flock to the unpretentious tavern to sample 28 mostly domestic drafts and expertly curated bottles. Appropriately, many of the selections are New York-sourced, like Red Ale from Three Heads Loopy and Brooklyn Brewery's light, wheaty Weisse. Plus: Best Pizza Places in the U.S. Photo © Clay Williams.

This large, Colonial-style pub serves only locally produced beer. Luckily, many terrific indie breweries call the Philadelphia area home, so the bar's 20 taps always have something interesting to offer. In addition to familiar names like Victory and Dogfish Head, look for Manayunk's caramel-brewed Philadelphia Porter. The gastropub serves basic burgers and sausages, plus daily-changing seasonal dishes like fiddleheads with ramps and bacon. Plus: Best Fried Chicken in the U.S. Photo © George Widman / The Greater Philadelphia Tourism and Marketing Corp.

A charming, cluttered Portland bar, Great Lost Bear started serving craft microbrews in 1979 when it had just eight taps. As the number of local breweries grew, so did the offerings. Sixty-nine taps now spotlight microbreweries like Marshall Wharf, whose Big Twitch is a sweet, citrusy style of IPA. Click Here for More of America's Best Beer Bars Photo © David Foster / Courtesy The Great Lost Bear.
Follow Food & Wine on Twitter: www.twitter.com/fandw