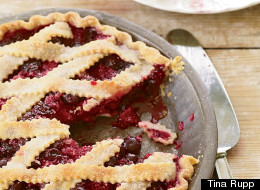 By Food & Wine
In the never-ending cycle of boom-and-bust trendiness that moves cupcakes and doughnuts from hot to not to hot again, there is one constant: pie. We scoured the country to find the very best. Here, Food & Wine names America's best pie spots.
More from Food & Wine:
Best Ice Cream Spots in the U.S.
America's Best Doughnuts
America's Best Regional Desserts
Best Burgers in the U.S.
Best Pizza Places in the U.S.
Best Fried Chicken in the U.S.
Run by cousins of chef Grant Achatz, Achatz Handmade Pie Co. uses over a million pounds of Michigan fruit each year in pies like Four-Berry and Caramel Nut Apple (Dutch apple with a half-pound of mixed nuts plus caramel poured on top). The owners opened their eighth Michigan bakery this November in Ann Arbor and also sell pies online. Plus: Delicious Fruit Pie Recipes Photo © Hector Sanchez

After winning a local bake-off, Allison Kave launched First Prize Pies with flavors like s'mores and Apple Cider Cream Pie. Kave sells pies at her mother's chocolate stand Roni-Sue's in Manhattan's Essex Street Market, and also ships nationwide. Plus: Best Ice Cream Spots in the U.S. Photo © Hector Sanchez

Paula Haney made pastries at acclaimed Chicago restaurants like Trio before opening her adorable, and adorably named, Hoosier Mama Pie Company. The Hoosier Sugar Cream comes with a rich brown sugar filling. One of her top seasonal pies is cherry-berry (pictured). Plus: America's Best Doughnuts Photo © Tina Rupp

Available all year round at this bakery and lunch spot: Shaker Lemon Pie, which combines macerated lemon slices that, once baked, give the filling a marmalade-like consistency. Plus: America's Best Regional Desserts Photo © Chuck Samuels - Scratch

PieLab serves as a café as well as a classroom where young men and women who are just out of school can learn about business and culinary arts. The PieLab team's recipe for Cranberry Glazed Pumpkin Pie has a super-simple crust made with store-bought gingersnaps and ground walnuts, a silky pumpkin filling and a cranberry compote topping with more crunchy walnuts. Plus: Best Fried Chicken in the U.S. Photo Courtesy RaMell Ross

The filling for this caramel lovers' dream pie is sweetened condensed milk sprinkled lightly with sea salt and baked until thick and gooey, then chilled in a simple graham cracker crust. Executive chef Carrie Cusack also makes a rich signature Missouri Mud pie: chocolate filling topped with toasted homemade marshmallow in a pecan-graham crust. Plus: Beautiful Desserts Photo © Dana Gallagher

Valeri Lucks, the co-owner and self-titled "chief people wrangler" and "pie master" at Honeypie Cafe, makes a Black-Bottom Banana Cream Pie that marries two of her best-selling pies: chocolate cream and banana cream. Click Here for More of America's Best Pie Spots Photo © Dana Gallagher
Follow Food & Wine on Twitter: www.twitter.com/fandw