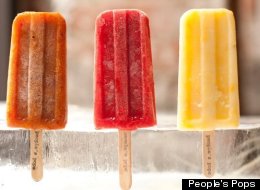 By Justine Sterling, Food & Wine
What's better than a frosty popsicle from the freezer on a hot summer day? An artisanal ice pop made with seasonal fruits, local dairy and fresh herbs. American businesses like New York's People's Pops and cheeky Suck It in Los Angeles are creating versions of the frozen treats that don't come with a syrupy sugar high or leave lips stained with artificial dye. Here, Food & Wine names the best popsicles in the U.S.
More from Food & Wine:
Best Ice Cream Spots in the U.S.
America's Best Doughnuts
Best Burgers in the U.S.
Best Pizza Places in the U.S.
Best Fried Chicken in the U.S.
Crazy Things People Do to Ice Cream
Owned by two sisters, Irma and Norma Paz, the tiny storefront packs its freezers with two varieties of creative pops: creamy and fruity. Daily offerings cover a floor-to-ceiling blackboard, which also acts as a backdrop for occasional popsicle art. Alongside blueberry lime and creamy banana nut, unconventional flavors range from olive to creamed corn. All can be dipped in chocolate. Plus: Best Ice Cream Spots in the U.S. Photo © Stefan Engström.

After launching as a food truck in 2008 to great success, Meltdown expanded operations with a French Quarter confectionery. Made from locally sourced and organic ingredients, the pops come in flavors like salted caramel and peach orange blossom. Plus: Crazy Things People Do to Ice Cream Photo © Vaeda Baty.

This cheeky shop buys fruit from local farms to make its "suck-sickles" in flavors like nectarine and blueberry hibiscus, as well as oddball offerings such as dill pickle or spicy avocado. Many blends include fresh herbs plucked from the patio garden outside. Plus: America's Best Doughnuts Photo courtesy of Suck It Sweets and Treats.

Based in the indoor maze of bakeries and gourmet shops that is Manhattan's Chelsea Market, this local pioneer also hawks its farm-to-freezer pops at the Brooklyn Flea, where the founders first got customers hooked on flavors like roasted red plum and tarragon cantaloupe. Plus: America's Best Coffee Bars Photo courtesy of People's Pops.

When the banking industry let him down, Steven Carse turned to his love of paletas (Mexican ice pops) for a new career. He aspires to run a waste-free company by donating fruit scraps to community gardens. Paletas are made in both Southern-inspired flavors, like the Arnold Palmer (sweet tea with lemonade), and more traditional variations, like Mexican chocolate spiced with cayenne, cinnamon, nutmeg, clove and vanilla. Plus: Beautiful Desserts Photo © Garry Bowden.

In 2009, college friends Brian Sykora and Roger Horowitz, distressed by the lack of paletas in Washington, D.C., decided to open Pleasant Pops. Using fruits, vegetables, herbs and dairy from sustainable farms, the duo stops at area greenmarkets to sell flavors like strawberry ginger lemonade and cucumber chile out of their truck, referred to as Big Poppa. A brick-and-mortar storefront called the Pleasant Pops Farmhouse Market is due to open this summer. Plus: America's Best Regional Desserts Photo © Dave K. Cooper.

Philadelphia's first artisan popsicle shop opened in May in West Philadelphia. Owner Jeanne Chang's bright, colorful store attracts students from nearby UPenn and Drexel with unusual combinations like peanut butter and curry, goat cheese cherry, and mango sriracha. Flavors rotate seasonally, with fall ushering in pumpkin and eggnog pops. Click Here for More of America's Best Popsicles Photo © Abby Sullivan.
Follow Food & Wine on Twitter: www.twitter.com/fandw