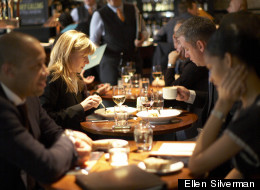 By Kate Krader, Restaurant Editor, Food & Wine
The words "tasting menu" have traditionally been synonymous with sticker shock. Such is the case at New York City's Masa, where prix fixe prices start at $450. Today, the concept has become so democratic that even star chefs are serving bargain-priced meals. Here, Food & Wine names America's Best Tasting Menus for $50 or Less.
More from Food & Wine:
America's Best Bars
America's Best Cheap Cities to Visit
Best Sandwiches in the U.S.
Best Burgers in the U.S.
Best Pizza Places in the U.S.
Best Fried Chicken in the U.S.
At this renowned restaurant, Michael Anthony (an F&W Best New Chef 2002) offers a great deal, especially for the tony Gramercy Park neighborhood. Anthony calls the $48, four-course prix fixe in the restaurant's tavern area The Today Menu. "It gives us a chance to cook informally," he says about dishes like spinach tart with goat cheese and curried-goat open ravioli. "It's how we like to cook on our day off." Plus: Best Burgers in the U.S. Photo © Ellen Silverman

To get details on chef Hadley Schmitt's $24, three-course Sunday supper at this market-driven East Village spot, fans check the @northernspyfood Twitter feed after 4 p.m. The Sunday meals tend toward homey dishes like roast chicken and tomato salad. Every six weeks or so, Schmitt prepares a more ambitious, $50 themed menu; a vegetarian meal might feature a pear salad with both shaved and pureed celery root and roasted cauliflower with cider-braised cabbage. Recently, Northern Spy has launched nightly $50, five-course tastings with dishes like roasted lamb with Indian-spiced granola, and pear bombe stuffed with goat-cheese sorbet. Plus: America's Best Bars Photo © Hulya Kolabas

"The term pop-up had never registered with me before," says chef Fredrik Berselius. Still, when a restaurant deal fell through, he and co-chef Richard Kuo decided to serve their incredibly cheap, modern-Nordic menu in a very pop-up-like situation: out of a kitchen in a Brooklyn design studio, Monday through Wednesday only. Berselius and Kuo, who met at Manhattan's Corton, price their seven-course menu at just $45, creating walleye pike garnished with egg yolks and colorful wild herbs and greens, as well as beef cooked in hay with garlic mustard. The duo typically spends the other four days working, foraging at local and upstate parks for ingredients like herbs and mushrooms. Plus: Best Pizza Places in the U.S. Photo © Sarah Ward

Johnny Monis is Greek, and so is his flagship restaurant, Komi, where he was named an F&W Best New Chef 2007. His 10-month-old, 28-seat Little Serow is decidedly un-Greek: It's Thai, serving the spicy food of the Isan region (where he and his wife got married). For $45, Monis sends out seven or so family-style dishes, ranging from just-fried pork rinds with the green chile sauce nam prik num to larb, the sour, chile-spiked chopped-meat salad with vegetables and sticky rice. Plus: Best Steak in the U.S. Photo © Dakota Fine

On Sunday nights after 9 p.m., Tony Maws, an F&W Best New Chef 2005, prepares four-course Chef's Whim menus for $45 at his brilliant New American restaurant. (Ordinarily, the eight-course Ultimate Craigie Experience is $115.) Maws calls the meals "the surprise," because, he says, "You don't know what you'll get, because we haven't created it before." Past surprises have included dishes like ricotta cavatelli with rabbit ragout and spiced lamb tenderloin with fresh garbanzo beans. Click Here for More of America's Best Tasting Menus for $50 or Less Photo © Michael Piazza
Follow Food & Wine on Twitter: www.twitter.com/fandw