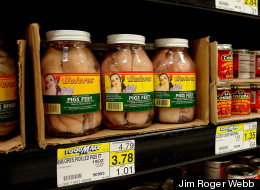 Here, Food & Wine names America's weirdest regional foods.
More from Food & Wine:
America's Best Bars
Best Pizza Places in the U.S.
Best Burgers in the U.S.
Best Fried Chicken in the U.S.
America's Most Over-the-Top Burgers
America's Wacky Fair Foods
Food & Wine's Weirdest Regional Foods
One of Hawaii's most popular comfort foods, the loco moco consists of white rice topped with a hamburger patty, a fried egg and brown gravy. The dish debuted in 1949 at Lincoln Grill in Hilo, where it was served for 25 cents. Lincoln Grill has since shuttered, but chef Sam Choy offers a stellar traditional version at his Kai Lanai restaurant on the Big Island. Plus: Best Burgers in the U.S. Photo © Crissy Terawaki Kawamoto.

This Southern delicacy is typically slow-cured in a brine of white vinegar, salt and spices and preserved in jars. Eating a pickled pigs foot involves navigating through fat and gristle to find bits of vinegary, hamlike meat. The pickled trotters are sometimes incorporated in rice and bean dishes but most commonly are consumed straight from the jar as a snack with a splash of hot sauce. Plus: America's Best Bars Photo © Jim Roger Webb.

The leathery siphon protruding from the six-inch shell of this odd-looking deep-water clam can reach up to three feet in length. Geoduck (pronounced goo-ee-duck) hail from the coasts of Washington State and British Columbia, typically weigh about three pounds and can live to be 100 years old. At Shiro's Sushi Restaurant in Seattle, sushi master Shiro Kashiba thinly slices the sweet, chewy siphon and serves it as sashimi; the tender body meat is sautéed in butter with shiitake mushrooms and asparagus. Plus: Best Pizza Places in the U.S. Photo © HQCreations.

Mike Anderson of M.A.'s Gourmet Dogs in Anchorage has served this popular street food made with Alaskan caribou (aka reindeer) for 20 years, topping the grilled franks with Coca-Cola-caramelized onions. Reindeer is sold in most Alaskan supermarkets, but for the rest of the US, Alaska Sausage and Seafood ships smoked reindeer sausage, spiced with coriander and white pepper. Plus: America's Best Bacon Burgers Photo © Travis Shinabarger.

At the controversial annual World's Largest Rattlesnake Roundup held in Sweetwater, Texas, the venomous reptiles are captured from the surrounding desert and brought to the Nolan County Coliseum, where they are skinned, battered and deep-fried. Plus: Best Fried Chicken in the U.S. Photo © Jean.

Cajun chef Paul Prudhomme claims he invented this over-the-top dish of a chicken stuffed inside of a duck stuffed inside of a turkey--with all the bones removed so it slices like a multi-ringed poultry loaf. He first published a turducken recipe in The Prudhomme Family Cookbook in 1987, but the dish's national popularity became mainstream 10 years later when NFL commentator John Madden consumed a turducken on air during a New Orleans Saints game. Plus: Best Sandwiches in the U.S. Photo © JeffreyW.

Also known as chitterlings, this traditional soul food dish is made from the small intestines of a pig. After a time-consuming and thorough cleaning, the intestines are slowly simmered until fork-tender, then often breaded and deep-fried--making them almost unrecognizable. Click Here for More of America's Weirdest Regional Foods Photo © Lisa Richards, Mack Hill Farm.
Follow Food & Wine on Twitter: www.twitter.com/fandw