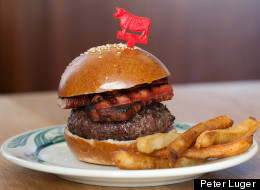 Chefs across the country are upgrading their amazing burgers with the ultimate finishing touch: incredible bacon that's smoked in-house or is sourced from cult producers like Allan Benton and Nueske. Here, Food & Wine names the best bacon burgers in the U.S.
More from Food & Wine:
America's Best Bars
Best Burgers in the U.S.
Best Pizza Places in the U.S.
America's Most Over-the-Top Burgers
Best Fried Chicken in the U.S.
Best Grilled Cheese in the U.S.
Food & Wine's Best Bacon Burgers
Michael Symon, F&W Best New Chef 1998, specializes in "meat on meat" burgers at his Ohio-based chain B-Spot. Named after his Cleveland flagship, the Lola Burger could almost double as a breakfast sandwich, since it's piled with bacon and a fried egg (in addition to pickled red onions, cheddar cheese and mayo). Plus: Best Burgers in the U.S. Photo © Paul Sobota.

Chef-owner Tim Byres (F&W People's Best New Chef 2012) relies on an in-kitchen wood grill and smoke pit to smoke and cure almost every item on the menu. He serves his mega burger, called the EB&D Loaded Up & Truckin' Burger, with a soft-cooked egg fritter, thick house-smoked bacon and smoked sharp cheddar on a homemade honey roll. Plus: America's Best Bars Photo courtesy of Smoke Restaurant.

This farm-to-table burger spot grinds its grass-fed, dry-aged, locally sourced meat daily. Its No. 6 Blackboard Burger is topped with local bacon, a runny sunny-side-up egg, pepper Jack cheese and salsa verde, a salty-savory Italian sauce made with capers, parsley and anchovies. Plus: Best Pizza Places in the U.S. Photo courtesy of Farm Burger.

At this legendary steak house, it's hard to decide which meat is more delicious in the broiled, lunch-only Luger Burger: the beef or the bacon. Prepared with a porterhouse-and-prime-chuck-beef blend, the super-flavorful patty is served in a sesame seed bun and topped with incredible, thick-cut hardwood-smoked lean bacon from famed charcuterie shop Schaller & Weber. Plus: Best Steak in the U.S. Photo courtesy of Peter Luger.

Executive chef and co-owner Brian Perrone was reluctant to put a burger on the menu because he wanted to focus on barbecue. At the insistence of his partners, he came up with a patty-melt-style version topped with smoked Gouda, sweet house-made barbecue sauce, hot-sauce-spiked onions and house-smoked thick-cut bacon. It was an instant hit. Plus: Best Grilled Cheese in the U.S. Photo © Marcus Nilsson.

The newest location of restaurateur Danny Meyer's popular burger chain was the first one to feature the new SmokeShack: a cheeseburger topped with Niman Ranch applewood-smoked bacon, chopped cherry peppers and the famous tangy Shack Sauce, a secretly spiced blend of traditional condiments like ketchup, mayo and pickles. Plus: America's Most Over-the-Top Burgers Photo © William Brinson.

"The bacon just pops the flavor of the burger," says Matthew Moore, co-owner of this steakhouse with an in-house dry-aging meat locker. The flavorful 12-ounce Chicago Cut Prime Burger is made from a blend of 35-day prime dry-aged rib eye, dry-aged sirloin and wet-aged filet mignon. "Every waiter always highly recommends adding Nueske applewood-smoked bacon, which is hand-cut in thick or thin slices depending upon the customer's preference." Click Here for More of the Best Bacon Burgers in the U.S. Photo courtesy of Chicago Cut Steakhouse.
Follow Food & Wine on Twitter: www.twitter.com/fandw