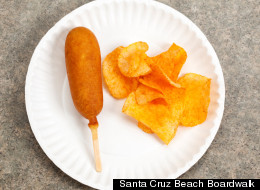 By Julie Alvin, Food & Wine
There are over 60 boardwalks dotting America's coastlines, ranging from iconic destinations that have lured seaside-goers for over a century (Coney Island, New York) to newer attractions like the Kemah Boardwalk, an amusement park built overlooking Galveston Bay outside of Houston. For those who also love boardwalk foods, advanced planning for summer trips to these tourist haunts can mean the difference between frozen fries or terrific meals that match the allure of the beach. Here, Food & Wine names America's best boardwalk food.
More from Food & Wine:
Best Burgers in the U.S.
Best Pizza Places in the U.S.
Best Fried Chicken in the U.S.
America's Best Ice Cream Cities
Best Grilled Cheese in the U.S.
Best Steak in the U.S.
Operating since 1907, the only remaining oceanfront amusement park on the West Coast has two rides officially recognized as National Historic Landmarks: the hand-carved Looff carousel (1911) and the wood-framed Giant Dipper roller coaster (1924). Another throwback to its early years is Marini's Boardwalk, whose 1915 location still cooks its saltwater taffy in copper kettles. At the Surf City Grill, the fresh-dipped corn dogs are infamous, but the artichokes in a light, garlicky batter are the real finds. Plus: Best Burgers in the U.S. Photo courtesy of Santa Cruz Beach Boardwalk.

This 5.5-mile stretch, the longest boardwalk in the world, once captured the country's collective imagination with its glitzy acts and grand Art Deco and Beaux Art hotels--now dramatically revisited on HBO's Boardwalk Empire. The oldest boardwalk in the US is also enjoying a revival with the 2012 opening of the Revel resort. Its dizzying array of star chef-run restaurants includes a modern steak house by Marc Forgione, a Riviera-inspired seafood spot by Alain Allegretti and offshoots by DC chef Michel Richard and Philly chef Jose Garces. For a taste of old-time lore, the James Candy Company pulls saltwater taffy from recipes that date from the 1900s. Plus: America's Best Bars Photo courtesy of Atlantic City Boardwalk.

There's a lot packed along this wooden boardwalk, including free concerts on Wednesday nights in July and August, outdoor movies and a Beach Olympics (think sand castle-building competitions). Thrasher's, a favorite since 1929, serves french fries twice-fried in peanut oil and doused with apple cider vinegar. The no-frills Mug & Mallet serves terrific Maryland blue crabs by the bucket steps from the beach, and at Fractured Prune, hand-dipped doughnuts are named after classic desserts like the Black Forest, with raspberry glaze, coconut and mini chocolate chips. Plus: America's Best Doughnuts Photo courtesy of Ocean City, MD Department of Tourism.

Opened in 1996, this 60-acre boardwalk amusement park overlooking Trinity Bay is home to the Texas Gulf's only roller coaster, the gargantuan Boardwalk Bullet. In April, the annual Kemah Crawfish Festival takes place under the Kemah Bridge, featuring farm-raised Louisiana crawfish in a variety of iterations, including étouffée, gumbo and jambalaya, but the most popular is the $2-a-pound boils by expert boiler James Wimberley. Plus: Best Steak in the U.S. Photo courtesy of Kemah Boardwalk / DPW Public Relations.

There is no shortage of interesting characters on this boardwalk, lined with tattoo parlors, skate parks and the original Muscle Beach Gym. Jody Maroni made his mark here in 1979, when he opened Jody Maroni's Sausage Kingdom, filling his sausages with all sorts of unexpected ingredients, smoking them on site and serving them fresh off an outdoor grill. His constantly evolving menu now includes sausages made with chicken mole and Kobe beef. Plus: Best Grilled Cheese in the U.S. Photo © Robert Harding Picture Library Ltd / Alamy.

Palace Playland, the only beachfront amusement park left in New England, abuts this rickety-looking wooden pier (the first iteration was built in 1898). One of the current pier's biggest draws is Hurricane's Raw Bar for its fantastic Maine seafood, including succulent lobster rolls, steamers and fresh-shucked oysters. Along the shore, Dickinson's Candy Factory pulls its own taffy and serves Shain's of Maine ice cream. Plus: America's Best Ice Cream Cities Photo © Alastair Balderstone / Alamy.

These days, Seaside Heights might best be known as the bar-heavy backdrop of MTV's "Jersey Shore." But it also offers white sandy beaches, two amusement parks and terrific old-school counter-service shacks that have stood the test of time. The longest lines, indisputably, are for Kohr's creamy, soft-serve frozen custard and Maruca's Trenton-style pizzas, with cheese on the bottom and a signature swirl of tomato sauce on top. Click Here for More of America's Best Boardwalks Photo © Benjamin Tankersley / Alamy.
Follow Food & Wine on Twitter: www.twitter.com/fandw