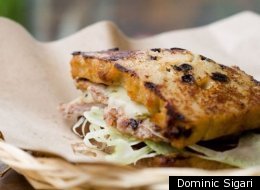 The megatrend of restaurant breakfasts has spawned a mini-trend: the restaurant breakfast sandwich. From biscuit bombs to a version that uses sliced bread pudding in place of bread, here, Food&Wine names the Best Breakfast Sandwiches in the U.S.
More from Food & Wine:
Best Burgers in the U.S.
Best Pizza Places in the U.S.
50 Best Bars in America
Best Grilled Cheese in the U.S.
Best Fried Chicken in the U.S.
America's Best Doughnuts
Chef John Stewart's sandwich shop uses slices of fresh maple-currant bread pudding for the outer layers of its belovedly rich breakfast sandwich, the Maple. The creamy exterior gives way to a sausage patty, gooey melted chipotle-cheddar cheese and fennel shavings to temper the sweetness. meatcheesebread.com Plus: America's Best Regional Desserts

The breakfast menu at Hugh Acheson's modern soul food restaurant is concise with basic eggs, grits and some healthier options, but the mix-and-match breakfast sandwich lends itself to a multitude of variations. One favorite features a fresh-baked biscuit topped with fried chicken, pimento cheese and optional scrambled eggs for an extra $1. empirestatesouth.com Plus: Best Fried Chicken in the U.S.

The offshoot of chef Tom Douglas's flagship restaurant, Dahlia Lounge, offers a gourmet twist on an Egg McMuffin: a fresh-baked English muffin topped with a fried-to-order egg, house-cured ham, cheddar cheese and a spicy dab of Dijon mustard. Douglas's new joint, Serious Biscuit, serves over-the-top sandwiches on the house specialty. One biscuit sandwich includes fried green tomato, bacon, remoulade, and egg. tomdouglas.com Plus: Best Burgers in the U.S.

Formerly of Charlie Trotter and North Pond, Jeffrey Mauro re-energized the city's brunch scene with the recently relocated Jam. Though the new space now serves dinner regularly, the restaurant is famous for breakfast items like a pork-shoulder-and-egg sandwich with ricotta salata and tangy green-apple ketchup. jamrestaurant.com Plus: Best Grilled Cheese in the U.S.

In addition to creative desserts like an Elvis-inspired peanut-butter-and-banana layer cake, the 1950s-style bakery offers a single savory breakfast item: A doubly cheesy sandwich composed of a cheddar scone and a hunk of egg-and-cheese casserole studded with green chiles. sweet16th.com Plus: America's Best Regional Desserts

At Manhattan's Southern-chic canteen Peels, chefs Preston and Ginger Madson offer a build-a-biscuit sandwich with fillings like supersoft scrambled eggs, ham, sausage, different kinds of cheeses and a coffee-spiked redeye gravy. peelsnyc.com Plus: 50 Best Bars in America

Isaac Becker's ingenious take on a bacon-and-fried-egg sandwich--brushed with the pungent North African chile paste, harissa--isn't actually available for breakfast. It's the chef's idea of a perfect late-night snack, and one of the reasons his restaurant attracts local food industry types after-hours. Click Here for More of the Best Breakfast Sandwiches in the U.S.
Follow Food & Wine on Twitter: www.twitter.com/fandw