Best Movie Theaters For Food Lovers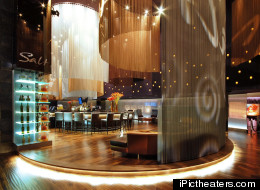 By Jasmin Sun, Food & Wine
As an alternative to big-box movie theaters plagued by cramped seats, stale smells and
frighteningly artificial orange-yellow "butter," new and independent cinemas are now providing
fantastic food and amenities, featuring everything from mixologist-crafted cocktails to reclining
seats and chef-conceived concessions. Here, Food & Wine names the best movie theaters for food lovers.
More from Food & Wine:
America's Best Bars
Best Burgers in the U.S.
Best Pizza Places in the U.S.
America's Best Bacon Burgers
Best Fried Chicken in the U.S.
Best Sandwiches in the U.S.
Food & Wine's Best Movie Theaters For Food Lovers
With more than 50 agave tequilas and mezcals on hand, and a cocktail program created by consulting mixologist Adam Seger of Chicago's Nacional 27, iPic takes its drinks as seriously as its movies. Try the Bloody Margarita, which uses volcanic salt and celery bitters. Luxurious theater seating is another major draw at iPic: Most screening rooms feature full-body reclining chairs with pillows, blankets and armrests with inset call buttons for food orders. Plus: Best Burgers in the U.S. Photo © iPictheaters.com.

Founder Matthew Viragh's passion for the dinner-at-the-movies concept led him to hire a lawyer and a lobbyist to overturn a decades-old New York law barring alcohol in cinemas before opening the cinema in 2011. Now, Williamsburg locals stop by the bi-level space for cocktails even when they're not coming to catch one of a handful of indie, mainstream and old-school films (think Woody Allen's To Rome With Love vs. Smokey and the Bandit). Theaters are filled with pairs of seats clustered around small tables, so it's easy to eat fish tacos with cabbage slaw, Cotija cheese-tossed popcorn and other menu offerings conceived by Michelin-starred chef Saul Bolton. Cup holders are for pints of local Sixpoint beers or movie-geek drinks like the Hunger Games-inspired Girl on Fire, a spicy-tart mix of tequila and grapefruit juice. Plus: America's Best Bars Photo © Ty Cole.

Husband-and-wife Tim and Karrie League opened the first single-screen Alamo Drafthouse in a former 7,000-square-foot downtown Austin parking garage. In addition to good food, they're serious about keeping in-movie distractions to a minimum. To order favorites like the made-from-scratch Porky's Pepperoni pizza and the Pulp Fiction-inspired Royale With Cheese Burger, guests write selections on slips of paper to be picked up before and during the movie. A hilarious no-talking PSA airs before films, using sound bites from ejected guests' angry voicemails. The quirky theater also hosts prix fixe "Feasts," the most popular being a nearly 12-hour-long marathon centered around the Lord of the Rings trilogy, during which patrons are served every meal featured on screen. Plus: Best Pizza Places in the U.S. Photo © Cory Ryan Photography.

There's only one screen featuring 12 showings per week at this former World War II-era theater listed on Virginia's historic register, but tickets--which are only available for purchase the day of--sometimes sell out several hours in advance of the actual showing. The Commodore retains most of its original art deco design work, which includes midcentury details like a functioning 1940s pay phone in the lounge, and cabaret-style seating in the main theater, where guests are arranged at round tables in front of the screen. Patrons come back for an oddball mix of delicious comfort foods like hot cinnamon loaves, baked in-house daily and topped with white cake icing, and a gooey nacho platter smothered in ground beef, cheddar cheese, lettuce and diced tomatoes. Plus: America's Best Bacon Burgers Photo courtesy of Commodore Theater.

Crystal beaded curtains act as dividers throughout this 21-and-up dinner-cinema, which features a sleekly backlit bar for preshow and after-movie drinks and comfortable, high-backed leather seating. All meals are served before the movie to ensure a distraction-free experience, so be sure to arrive at least 30 minutes early to place orders for house-ground burgers and movie-inspired cocktails like the Happy Gilmore, a boozy take on the Arnold Palmer made with sweet tea-flavored vodka and pink lemonade. Plus: Best Grilled Cheese in the U.S. Photo © CinéBistro Miami.

Founded by Mexican filmmaker Ernesto Rimoch and his son Diego, Living Room keeps prices low (under $10 for adults) and features movies sourced directly from independent directors in addition to first-run indies and some mainstream offerings. The menu leans Mediterranean with dishes like the Spanish tortilla with aged Manchego cheese and the Caprese panini, while drinks include cocktails and microbrews from Oregon's Widmer and Hopworks breweries. Even traditional snacks are upgraded: here popcorn is topped with real butter or house-made caramel. Plus: Best Sandwiches in the U.S. Photo © Chad Michael Corey for Living Room Theaters.

Cinetopia's wine bar Vinotopia maintains a cellar with more than 5,000 domestic and international wines, over 100 of which are available by the ounce or the glass thanks to a nitrogen-pressurized preservation system. Starting at 6 p.m. on weekends, jazz bands play in the theater's lounge, where the menus highlight upmarket comfort food, like house-made artichoke dip and creamy mac and cheese made with Tillamook cheddar, parmesan cheese and a bit of blue. Click Here for More of the Best Movie Theaters for Food Lovers Photo courtesy of Cinetopia.
Follow Food & Wine on Twitter: www.twitter.com/fandw