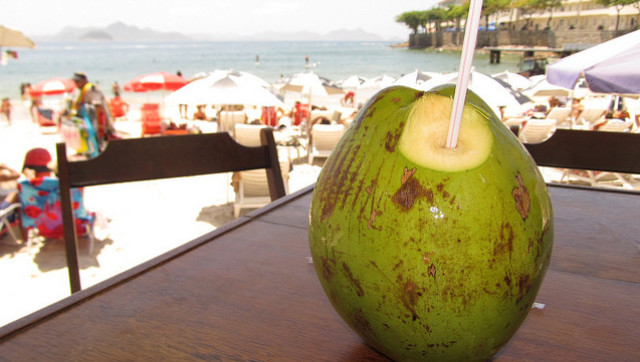 By Justine Sterling, Assistant Digital Editor, Food & Wine
In the space of a few years, bottled coconut water went from surprising celebrity food product to supermarket staple, with new brands rushing to satisfy growing demand for the healthy refresher. F&W sampled the most familiar products, and while nothing replaces the pure flavor of a freshly tapped coconut, one brand comes close with a price to match. Here, the newcomer and other options to suit every buyer's taste.
Editors' Pick: Harmless Harvest, 8 oz for $2.49
"My fave -- fresh coconutty flavor!" "Light and not too sweet." "I like the clean flavor."
Taste Nirvana, 9.5 oz for $1.89
"Vanilla-y -- I like the pulp." "Very sweet." "I prefer mellow coconut water."
Zola, $2.08 for each 17.5 oz can in a 12-pack
"Smooth balanced, not too sweet -- pleasant." "Sweet -- a little husky, as in I taste the husk." "Tastes like raw corn."
"Tastes like it has some other fruit 'flavor' than coconut, smooth taste." "Orange-y." "This is pretty good."
Coco Libre Organic, 11 oz for $1.99
"Mildly sweet." "Perfectly nice." "Slightly salty tasting."
VitaCoco, 11 oz for $1.99
"Decent sweetness -- a little flat." "Funny yellow color." "Kind of a pineapple tinge to it -- mellow, I like."
"Light coconut flavor." "Milky." "If pale could taste like something, this would be it."
Zico Natural, 11oz for $1.49
"Tastes sour/sweet." "Sweet, but don't really like the aftertaste."
"Watery and bland -- color is awful." "Thin and flavorless." "Almost tastes like the inside of a water bottle."
SUBSCRIBE AND FOLLOW
Get top stories and blog posts emailed to me each day. Newsletters may offer personalized content or advertisements.
Learn more