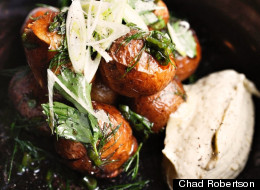 By Jordana Rothman, Food & Wine
We roast them and fry them; we pulverize them with butter and drown them in cream; they get boiled and steamed, grated and riced: The humble potato takes an awful beating, but the ancient crop is entering a golden age in the American kitchen. Versatile and fundamentally satisfying, potatoes are a favorite canvas for chefs who use the earthy tubers as a starting point for deluxe preparations. Here, Food & Wine names America's most decadent potato dishes.
More from Food & Wine:
Best Chicken Wings in the U.S.
Best Fried Chicken in the U.S.
Best Mac and Cheese in the U.S.
America's Most Decadent Potato Dishes
House Tater Tot Swiftine, $12 The classic Quebecois drinking snack poutine (fries smothered in gravy and cheese curds) takes a Texas detour at this eclectic small plates hot spot. Chef Mat Clouser arranges a ring of house-made russet tater tots around a pool of smoked ham hock gravy that's amplified with Worcestershire and Tabasco sauces, plus a glossy mix of duck and pork fats. "I went to culinary school in Vermont and I spent a lot of time traveling to Montreal," says Clouser of the dish's Canadian inspiration. Meat from the braised Niman Ranch ham hocks, along with slow-melting cubes of queso fresco from a local producer, Dos Lunas, send the indulgent dish into the stratosphere. Plus: America's Best BBQ Cities

Smoked and Fried Potatoes, $9 Chef Nick Balla uses a combination of three techniques to develop layers of texture and flavor with Yukon Gold potatoes. He first roasts the potatoes in a convection oven to soften them, smokes them over alder wood, then dunks the slightly crushed spuds into a roiling vat of rice bran oil to crisp. A black garlic and porcini vinaigrette cuts the richness and adds umami, while a scattering of dill sprigs nods to the restaurant's Eastern European influence. The tiny spuds are served with ramp-spiked mayo. Plus: Best Southern Food in the U.S.

Twice-Baked Potato, $8 This Seattle gem now benefits from having the talented, Eleven Madison Park-trained chef Jason Franey in the kitchen, but the menu continues to include a few nods to Canlis's midcentury roots. The restaurant opened in 1950, with a then-radical twice-baked potato on the menu; it is still offered, alongside modern dishes like cold-smoked salmon and uni panna cotta. Franey roasts big russet potatoes, scoops out the flesh and mashes it in a bowl with plenty of fat—about three pounds of butter and four pounds of sour cream per batch of 25 potatoes. Pecorino Romano, green onions and bacon go into the bowl, too, along with a few good handfuls of salt. Franey spoons the luscious mixture into cast-iron crocks, tops them with more pecorino and sticks them in the oven to bubble and crisp before serving. "The twice-baked potato is the epitome of decadence," says the chef. "It's a filling and beautiful thing." Plus: Best Mac and Cheese in the U.S.

Animal-Style Frites, $13 At his sustainable gastropub, chef Jonathon Sawyer simultaneously tips his hat to In-n-Out Burger's off-the-menu animal-style fries, and outdoes the cultish, West Coast-based chain's combo of cheese, grilled onions and Thousand Island dressing. Sawyer fries his potatoes in a mix of house-rendered beef, pork and poultry fats, along with thick-cut lardons of double-smoked bacon. The potatoes make a rich and crunchy pedestal for beefy gravy, organic mozzarella cheese curds, two runny fried eggs and plenty of cracked black pepper. However, the first step, says Sawyer, is finding a mature potato. "We use an Idahos that are at least 40 days old—the older the better," he says. "The sugars are so strong in fresh potatoes that it messes up our blanching process. We like to wait for those sugars to start converting into starch." Plus: Best Mac and Cheese in the U.S.

Out of Control Foie Gras Poutine, $18 There's an entire section of the menu devoted to poutine at this South End gastropub, but the ever-changing Out of Control iteration is the one to watch. "The OOC has to be ridiculous and over the top," says executive chef Seth Morrison of the dish and its wild accoutrements, which range from smoked turkey and cranberry sauce around Thanksgiving to heirloom tomatoes and basil in the summer. But the lobes of foie gras come out only during the chilly winter months. Morrison sears and slices the fatty liver, then piles it atop a tower of golden fries, luscious chicken gravy, homemade ricotta, and seasonal garnishes like roasted chestnuts and dried fruit chutney. Plus: Best Grilled Cheese in the U.S.

Chef Kevin Binkley's luxurious spin on picnic potato salad is a bit of a culinary white whale. It's available exclusively during peak truffle season, January through March, and even then it surfaces only as a rotating special. But there's an excellent reason to seek it out: Binkley's deluxe mayonnaise, enhanced with fresh chopped black truffles. Other highlights include four varieties of heirloom potatoes, including Ruby Crescents and La Rattes, fat-cutting celery gelee, a wisp of fried serrano ham and a blanket of freshly shaved truffles—an extravagant crowning touch that justifies the price tag. Plus: America's Best Beer Bars

Everything Potato Chips with Smoked Salmon, $17 To make potato chips resemble bagels, chefs Seth Siegel-Gardner and Terrence Gallivan core russets, slice them thin with a mandoline, then crisp them in rice bran oil. A handful of "everything" spices—fried garlic, plus sesame, celery and poppy seeds—season the chips, which are piled on a slate board and served with a Mason jar of pickled tomatoes, and smoked salmon napped with crème fraîche. "We tried to get all the elements of the bagel sandwich you grab in the morning on your way to work in there," says Gardner. Approximating the schmear: a chive-laced dollop of Philadelphia cream cheese foamed in a whipped cream dispenser. Click Here for More of America's Most Decadent Potato Dishes
Follow Food & Wine on Twitter: www.twitter.com/fandw