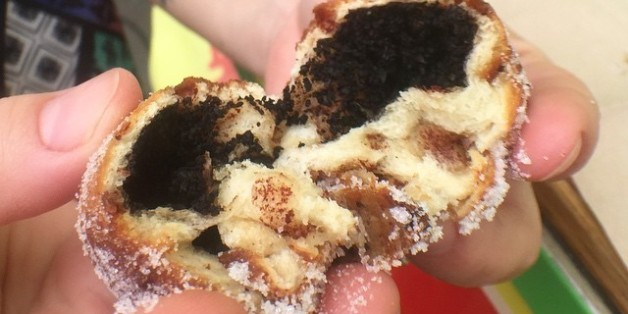 By way of the Bacon-A-Fair booth at the San Diego Fair (and fairs up along the coast through the summer), the guys known for wrapping copious amounts of things in bacon have taken a new approach with their flagship fair product this year: Deep Frying Coffee.
Here's what their signage looks like:
Shortly after trying Chicken Charlie's Deep Fried Slim Fast Bars, me and Rudy were slowly catching the -itis and needed a pick me up during our tour of the fair's food offerings. We stopped by the Bacon-A-Fair booth and stood clammering at this sign, wondering what Deep Fried Coffee would taste like. Sure enough it comes served out of a Starbucks-branded cup, comes with deep fried balls of ground coffee on a stick and a topping of whipped cream:
SUBSCRIBE AND FOLLOW
Get top stories and blog posts emailed to me each day. Newsletters may offer personalized content or advertisements.
Learn more