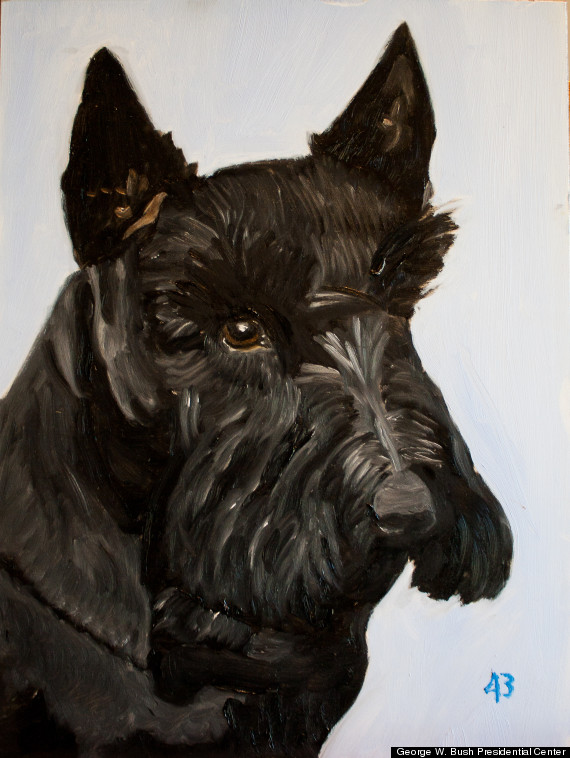 When the media learned about our 43rd president's new hobby, all anyone asked about was his talent. Even the former 1st lady sought to assess his ability as an artist, according to Tom Benning, writer for the Dallas Morning News, by showing some of her husband's doodles to her art teacher friend. We live in a culture that just can't resist judging accomplishments!
George W. Bush will be remembered for many things, depending on your politics, but painting landscapes and animals probably won't be on your list.
After the self-portraits and other works were made public by an email hacker, the professional critics chimed in. Sadly, I think that the focus of attention is greatly misplaced and doesn't reflect, in the least, the goals of this, or any other, Vintage Years artist.
When Mr. Bush took up painting, quite some time after leaving the White House, he was about sixty-five years old and most likely curious about the next phase of his life, which is natural and time appropriate. When you have the world's most demanding and powerful job, what follows could certainly be a let down.
How he spent his time after his term expired was critical to maintaining his life satisfaction and sense of meaning, creating an even bigger challenge for an ex-President than it is for the rest of us. But through his painting, he discovered a creative outlet that probably wasn't available, or hadn't surfaced, earlier. Not that he would have had time or the ability to focus for hours on a canvas during any earlier stage of his life.
In April, Katie Couric interviewed him as a late-blooming artist, and expressed surprise about George W. painting. He said the following about his newly found passion: "You can keep learning in life. . . . It's been eye opening for me. I look at colors differently. I see shadow and I paint every day."
This is George W. Bush the private citizen speaking, not as the former President or as a representative of an artist's guild. He didn't choose to publicly display his art, or even necessarily to talk about it. Remember, he was hacked. Like many of us, he engages in the art because it satisfies a yearning to express himself in personally fulfilling ways.
What makes for a scintillating hobby that will also stimulate your brain? Here are six factors to consider:
• Does it provide you with an intense focus?
• Does it increase your life satisfaction?
• Does it make learning fun?
• Does it provide cognitive stimulation -- very important as we age?
• Does it arouse your curiosity?
• Does it emphasize delight rather than talent?
If George W. Bush serves as a role model it might just be because he demonstrates the satisfaction that comes from doing what he wants in his Vintage Years; doing something that taps into a lifetime of experience and leads to a hobby that stimulates the brain, the psyche, and the soul.
At this later stage in life, talent and other people's opinions are not important for enjoyment. Similarly with young children, pleasure is derived from doing and doesn't depend on feedback from the outside world.
Earlier on Huff/Post50:
13 Creative Post 50s In 2012
At 47, Björk continues to evolve. Born in Iceland, she formed a punk band at age 14 and has been remaking herself -- again and again -- ever since. With a website that's one of the edgiest around, Björk continues to use her position to help launch new acts or mentor younger recording artists.

It's been 45 years since Dustin Hoffman, now 75, graced the big screen in "The Graduate," but this actor shows no sign of stepping out of the limelight. This year, the Oscar winner made his directorial debut with the new comedy-drama "Quartet" starring Maggie Smith.

Before there was Beyonce, Taylor Swift and Lady Gaga, there was Barbra Streisand. And, although 70 years old, Streisand launched her first concert tour in six years this year. She performed publicly in her native Brooklyn for the first time and to rave reviews. And she still found time to star in a new movie -- "The Guilt Trip" -- with Seth Rogen.

At 69, the former Pink Floyd leader's performance at the 12-12-12 Concert For Sandy Relief was apparently dazzling from start to finish. The rock legend's set was considered by many reviewers to be among the most exhilarating moments of the night. In the past few years, Waters also has performed concerts to benefit those suffering after the 2004 Indian Ocean Earthquake and subsequent tsunami disaster. He's also been a passionate spokesman for Millennium Promise, a non-profit organisation that helps fight extreme poverty. This is one person who puts his creativity to good use.

As the head of the Los Angeles Philharmonic, Deborah Borda has been hailed for modernizing a 93-year-old institution. Since taking the post of president and CEO in 2003, the L.A. Phil has found fans in innovative ways, from iTunes to movie theaters. It's going to be fun to watch what this bold 63-year-old risk-taker does next.

This cartoon, "Henry VIII and King's Choir," adorns the front wall of Kings College. Although the illustrator turned 80 on December 16, he has a new exhibit that just opened at the Marlborough Fine Art Gallery in London. It's not a retrospective, but a display of new work; Blake -- best known for his illustration of books written by Roald Dahl -- refuses to slow down.

Born in Taiwan, this 58-year-old filmmaker has amassed a mountain of impressive work, directing everything from "Eat Drink Man Woman" to "Sense and Sensibility" to "Crouching Tiger, Hidden Dragon." Most recently he's the director behind the dream-like "Life of Pi" that's already garnering loads of accolades. It will be interesting to see how Lee tops his 3D adaptation of Yann Martel's novel, which is being called "a visual triumph" by reviewers.

It's always fun to come across someone who achieves great literary success with their first book -- after the age of 50. Charlotte Rogan is one such person. The Princeton University graduate enjoyed a busy life raising triplets in Dallas, Texas before sending off two manuscripts to an agent -- one she'd been working on for nearly a decade. A few years later, after she turned 57, that manuscript became the recently published work "The Lifeboat," which already has garnered much acclaim.

Born in 1932 in England, Sir Geoffrey William Hill is a poet, professor emeritus of English literature and religion and former co-director of the Editorial Institute at Boston University. Elected Professor of Poetry at the University of Oxford in 2010, he's widely viewed to be among the most talented and esteemed poets of his time. Even at 80, he's still a poet of immense influence and a talented lecturer.

As one of the highest ranking women in advertising and chairwoman of South Africa's largest agency group, there's much to be in awe of when it comes to Nunu Ntshingila. Having worked her way up the ladder from a position as a trainee account manager, she cemented her status as advertising's first lady in December 2012 when she earned her second Lifetime Achievement Award at the AdFocus Awards, held in Johannesburg.

David Henry Hwang, 55, has probably brought more Asian and Asian-American characters to Broadway and other stages than almost anyone else. In August 2012, Hwang received the $200,000 Steinberg award for playwriting, the most generous prize in theater. The Tony Award winner is behind such dramas as "Chinglish" and "M. Butterfly." Up next: a project inspired by the life of Bruce Lee, "Kung Fu," which will hit the stage in fall 2013.

These architects are the dynamic duo of design. The husband-and-wife team founded their firm in 1974 -- and have had an exceptionally outstanding year in 2012. Their 28-person Manhattan firm debuted four stunning buildings around the world -- including the Barnes Foundation art museum in Philadelphia, which opened in May 2012.
Follow Francine Toder, Ph.D. on Twitter: www.twitter.com/DocToder