Almost everybody at some point in their career wonders what it would be like to be their own boss. Effortless Entrepreneur, by Nick Friedman and Omar Soliman with Daylle Deanna Schwartz, tells the story of Omar & Nick, two college kids who started their own business and made millions. And, for a change, it wasn't a tech business. It was good old fashioned hauling away trash. For some of you reality TV aficionados you may have seen them on Millionaire Matchmaker.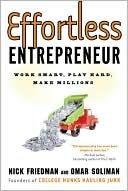 We all like the success stories about people who are self-made. You might be wondering if you have the right stuff to make something out of nothing -- a germ of an idea to a multi-million dollar business.
Here are some things to consider:
An idea - Do you have to create a category or find a niche market to be successful? Not necessarily. What's important is to differentiate your product or service. Nick and Omar didn't create the junk hauling category, but they were smart enough to figure out how to position themselves against their competitors. They did this initially with their name, "College Hunks Hauling Junk." Not only is it memorable but it describes the service and who's providing it. They were able to capitalize on a segment of the target audience who preferred hiring struggling college students to a large corporation. Sometimes the simplest ideas are the best. Ask yourself why your product or service should exist? If you believe you have a good idea, you owe it to yourself to explore it.
A business plan - Writing a business plan will help organize your thoughts and evaluate the key areas of your potential business. A business plan will require you to assess the size of the market, your target audience, the competitive situation, your funding needs, etc. The plan takes an objective look at the viability of your idea, which is why banks require it prior to lending money. While you love your idea and are attached to it, your banker is looking at the financial risk. If they're willing to lend you money, that's a vote of confidence in your business.
A personality type - Are you persistent? Willing to deal with uncertainty? Can you be accountable to yourself? Can you be resourceful, getting things done with little support? Can you go a year without making money? When people think about owning their own business they think of the pot of gold at the end of the rainbow and fail to consider all the hard work involved. Even on your days off you'll be thinking about your business because no one will care more about it than you.
Many people are starting their own businesses, despite this difficult economy. Stories like Omar's and Nick's are inspiring to entrepreneurs of any age. Take a page from Effortless Entrepreneur as you think about launching your own business. Ask the tough questions and go with your gut. Think about any great company and you'll find it started with two key ingredients: a great idea combined with someone's determination to see it through. If you have these qualities you might just be the next Omar and Nick.

Fred & Gladys
Whelan Stone
Executive Search and Coaching
Authors of GOAL! Your 30 Day Career Plan for Business & Career Success
SUBSCRIBE TO & FOLLOW THE MORNING EMAIL
Start your workday the right way with the news that matters most. Learn more