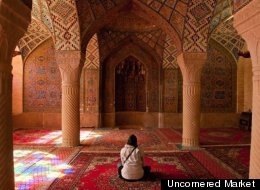 G Adventures sent Daniel and Audrey of Uncornered Market on a trip to Iran as part of their Wanderers in Residence program.
From the stone-carved grandeur of ancient Persia to the dizzying bits of tile work and mirrored glass that define Islamic architecture, Iran's history is deep and visual. And if UNESCO World Heritage Sites are your thing, Iran boasts over a dozen of them.
Add to that Persian carpets, vanilla-and-apple flavored tobacco, piles of saffron and racks of kebabs. And then there are the people who serve it all up with a dose of renowned Iranian hospitality.
Here are some of our favorite memories from our Discover Persia tour -- the sights we saw, the people we met and the experiences that we'll keep with us.
All pictures courtesy of Uncornered Market.
The most famous of Iran's archeological sites, Persepolis does not disappoint. You'll be amazed by the detail, including 2,500-year-old reliefs of Persian and Median guards marching in step.

If you think Persepolis is old, the ancient Mesopotamian Ziggurat of Tchongha Zanbil from the Elamite Empire goes back 1,000 years more. Only three of the five stories remain of this UNESCO-recognized structure, but it stands as a testament to the engineering feats of ancient times.

If you can't help but stare at this photo, imagine what it's like when you are actually there. Across Iran, you'll find mosques that amaze and dazzle with their geometric designs. Persian Islamic architecture will keep your head turning everywhere in Iran, but especially so in Esfahan, Shiraz and Yazd. Inside the north Prayer Room at the Pink Mosque (Masjed-e Nasir-ol-Molk) in Shiraz.

Bored of all those colorful tiles (how could you be?), then take a walk through the Shah-e Cheragh Mosque in Shiraz. When your guide says you'll be speechless, believe him.

The second-largest square in the world is the Royal Square -- or Imam Square -- in Esfahan. (Tiananmen Square in Beijing, China is the largest.) The layout of the square is intended to demonstrate the inter-relatedness of government, religion, education and commerce. Even after a full day exploring the mosques, market areas and palaces within the square, we felt like we'd only just begun.

Iran is home to one of the world's most ancient documented religions and its first monotheistic religion: Zoroastrianism. And just outside the town of Yazd, you can see ancient sky burial sights and cemeteries that Zoroastrians used for thousands of years. As a bonus, you'll get a dose of beautiful desert scenery along the way.

Iran has a strong culture market that goes back hundreds of years. Its covered markets are labyrinthine; each turn takes you to a new world of carpets, spices and people, too. Just try not to get lost. Shopping at the Shiraz covered market (bazaar).

Deep within each bazaar, aisles of spices. Saffron, turmeric, ginger, cardamom to name a few -- all freshly ground, even in layers! How many layers of spice can you count?

Tea is very important in Iran, but it's not just the actual drink that matters. Teahouses offer a social intersection, a place where friends and family gather together to hang out and unwind. They often share a qalyan (water pipe) to go along with their tea. You can, too!

Last but certainly not least, the people of Iran will make your trip and turn your assumptions about Iran upside-down. This was our G Adventures group with university students in Esfahan, Iran.
Follow G Adventures on Twitter: www.twitter.com/brucepoontip