From Danae Ringelmann of Indiegogo to Eli Pariser of Upworthy and from Connie Evans of Association for Enterprise Opportunity (AEO) to Eben Bayer of Ecovative, the theme of this year's gathering of social entrepreneurs at SVN in Baltimore was global innovation and inclusion on all levels.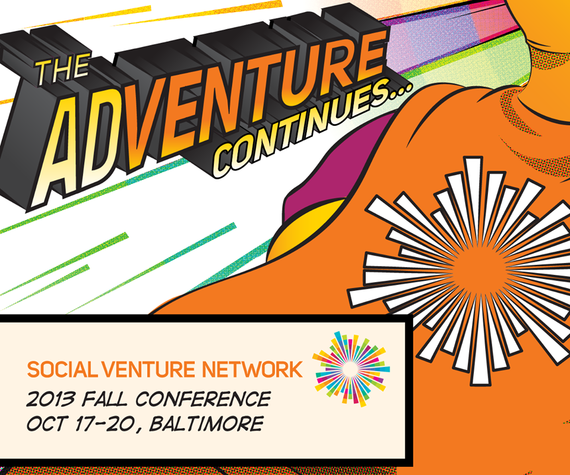 The entrepreneurial buzz was everywhere in the Renaissance Hotel even one of the food servers decided to start a business she got so excited. We can all do it and it is going to get easier in some ways: more access, more inclusion, more virtual platforms... and then you have to actually do the work! This is what once made Americans popular and what makes us unpopular with some... our Can Do attitude, only in this context we are talking about a world we might all want, without one special interest dominating another. The following are glimpses of leaders from this better world and it is by no means complete -- in fact, like the superhero theme of the gathering: the Adventure Continues... with you.
Danae Ringelmann of Indiegogo (www.indiegogo.com) was inspired to help people launch plays and films initially. When she realized that only 0.04 percent seeking venture backing get it and only 15 percent of new businesses manage to get loans, she built a platform where anyone can raise money through people who want to see any project happen and get a small gift in exchange for theirs. So simple. There is a fee increase if they fail to get to their goal but unlike kickstarter (www.kickstarter.com) the money still can be accepted... just go for it and see what happens. It is on track for potentially billions of dollars from participants all over the globe, democratizing fund raising for initiatives that are clearly wanted, even if someone else may not. Up on the stage, she seemed to an old timer, like me, just a smart nice young post graduate student with a big idea. But she had done it! Her advice: Ask yourself what bothers you the most? Why? What could be done about it? And who else cares? Then talk to others who care and imagine raising $100K to take care of the problem. Just do it because you can.
Connie Evans of the Association for Enterprise Opportunity (AEO) has decades of initiative in social solutions behind her and like Danae is most concerned about the lack of access to capital. She is working with Mohammed Yunus of Grameen to build micro-lending in this country because there are 8,000 loan applications currently being declined every day. She is also raising a $50M American Dream Fund to lend up to $250K of unsecured debt with 20 percent turned around within 48 hours and 4 to 6 weeks if there is a need for and a willingness to receive advice along with the loan. They expect to turn down only 7-10% of applicants and to work with the 70 percent who need advice. Can you imagine? Then go for it!
Now imagine musical interludes with the confident conducting of Dr. Ysaye Barnwell from Sweet Honey and the Rock (www.ymbarnwell.com), the breakthrough lyrics of Austin Willacy (www.austinwillacy.com), the deep sound of Imani Uzuri (www.imaniuzuri.com) and the down to earth simplicity of singer-songwriter, Erica Wheeler (www.ericawheeler.com), bringing a feeling for the peace in the surrounding landscapes. Mix that with the hip hop sound of Invincible merging fractal awareness with social IQ and the short but rich chant of Sadhguru, a modern man with an old-fashioned guru outfit who likes race cars and motorcycles as much as setting Guinness records by planting more trees in a day than any group. The sound collage worked because of the united intention of goodwill and entrepreneurial revolition. Yes, 'revolition'...it might have been a typo but I think not... we have to rewill the world and if we do believe in this, all kinds of music work together and everything can be questioned because there is no defensiveness if the sounds and questions are true. Music and dancing went on for some all night long, and an expansion of awareness and imagination of how possible well being is becoming in the midst of this troubling time. We are the world we are making and we are the heroes we used to think might save us.
Of course this was a privileged subset in the Renaissance Harbor Hotel, and ending with Honest Tea's founder, Seth Goldman's description of the sale to Coke and subsequent phenomenal scaling of low sugar, organic beverage consumption may have been off-putting to a localist. To me Ali and Altman Smith's story eclipsed the Honest Tea kind of success story. Their journey back to their crack-infested hood and reentry into the yoga path as a foundation for social healing was extraordinary to hear and see. Their Holistic Life Foundation (http://hlfinc.org/) has now taught thousands of children and adults who may have otherwise given up on their journey.
It is time for impact investing in social enterprises like this to scale like Honest Tea.