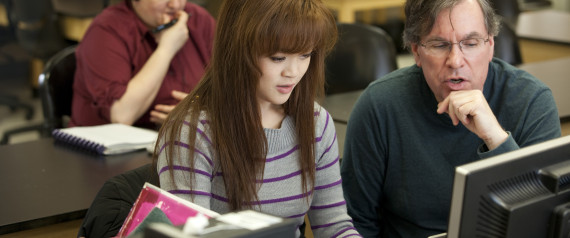 Higher education is undergoing a number transformative changes, much as the banking, entertainment and travel industries have been doing in recent years. In those sectors, new technology and lower barriers to entry led to new players and increased competition.
The same forces are affecting education as well -- but on an even more basic level. The entire model of the university is in the midst of a structural transformation. This is the argument of a recent report released by the experts at Pearson and the Institute for Public Policy Research, entitled "An Avalanche is Coming: Higher Education and the Revolution Ahead."
In his Forward, the economist Larry Summers summarizes the nature of this avalanche, writing that:
A new phase of competitive intensity is emerging as the concept of the traditional university itself comes under pressure and the various functions it serves are unbundled and increasingly supplied, perhaps better, by providers that are not universities at all.
What we call universities actually provide many different services under their overarching brands, and competition is increasing in each of these areas. In the realm of research, the number of players is proliferating rapidly, from consultancies like McKinsey or RAND, to think tanks like the Center for American Progress, Brookings or the New America Foundation.
In terms of course offerings and teacher training, there are a number of new options flooding the market as well. There are the well-publicized Massive Open Online Courses (MOOCs), which dramatically lower the barriers to university-caliber content. There are also companies like CISCO who are offering industry-related trainings and certificates that are often more relevant for finding a job in the field than typical university credentials.
Indeed, as Danielle Allen, who co-authored "Education, Justice, and Democracy" with Stanford professor Rob Reich, recently argued in a Washington Post column, MOOCs:
Augur a disruption of the relationships among students, colleges and trade schools, and the credentials those schools offer -- a relationship that has stabilized higher education for at least a century."
Finally, universities have long provided value in terms of creating spaces for collaboration, community and networking. Almost as important as the actual information being imparted was the opportunity to connect with other students, and build human and professional relationships that shape students' careers for decades to come. But while campuses are still important in this regard, social media and other online forums are providing easy, cheap alternatives for networking.
This unbundling of the functions of universities will have profound repercussions throughout the system. As the authors of the Avalanche paper argue:
Competition is not necessarily only at the level of the whole institution, it is also competition at the level of each individual component. When this happens, the unbundling of the existing institutions becomes possible, likely, or even necessary.
The diversification of curriculum development as an individual component is a perfect example.
On the demand side, things are changing as well, as a new generation alters what it means to be a student. College-age students are the first to have grown up as so-called "digital natives," having been connected to and immersed in the internet from a young age. This affects everything about the way they learn, from the way they absorb information, collaborate on projects and maintain their focus.
At the same time, these digital natives are entering a workforce that is drastically different from what their parents faced. Thus, the skills necessary to be professionally successful have changed, and will continue to change over the course of their lives. Abilities like problem solving, collaborative teamwork, technological fluency, entrepreneurial outlook and the ability to be continually learning will be at a premium -- and these are precisely the abilities that a "traditional" education struggles to impart.
Yet with this explosion of activity, a key open question is how government will react as the sector continues to evolve. Will regulators welcome innovation and change, or will they side with incumbents to preserve the status quo? How will the certification and accreditation process work given that the U.S. government presides over a national market that has already gone global?
One way or another, the institutions of higher education should realize that the 20th Century system that consolidated all academic functions under one roof is being challenged by new technologies and new structures. Opportunities for creativity, high-tech skills and personalization are growing -- and educators, students, parents and governments alike will need to learn how to take the best advantage of this "avalanche."