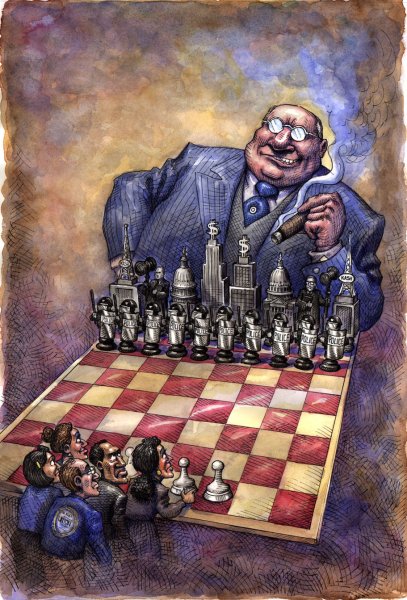 This so-called "Great Recession" isn't cyclical, and the problems are systemic. We didn't get here by accident. Choices were made by very wealthy and powerful people, and those choices can be reversed.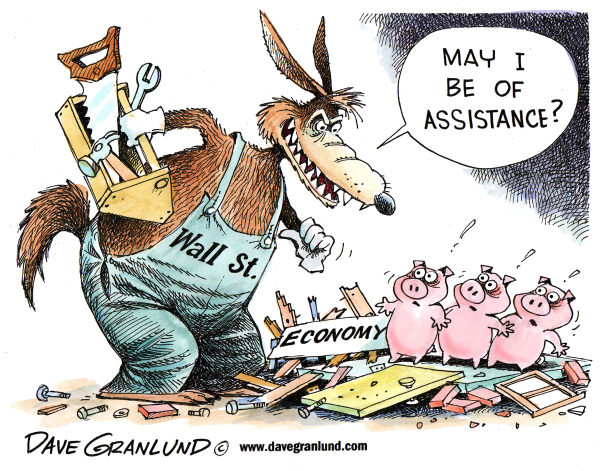 First of all, the Federal Reserve virtually controls the field of economics today.
The Federal Reserve, through its extensive network of consultants, visiting scholars, alumni and staff economists, so thoroughly dominates the field of economics that real criticism of the central bank has become a career liability for members of the profession, an investigation by the Huffington Post has found.
...
"The Fed has a lock on the economics world," says Joshua Rosner, a Wall Street analyst who correctly called the meltdown. "There is no room for other views, which I guess is why economists got it so wrong."
"It is difficult to get a man to understand something, when his salary depends upon his not understanding it."
- Upton Sinclair
Indeed, the arrogance of economics is that it is the polar opposite of Science. It begins with a few basic assumptions, many of which are obviously untrue; some are demonstrably false.

No, Mankind is not a rational, profit maximizing actor. No, markets are not perfectly, or even nearly, efficient. No, prices do not reflect the sum total of all that is known about a given market, sector or stock. Those of you who pretend otherwise are fools who deserve to have your 401ks cut in half. That is called just desserts. The problem is that your foolishness helped cut nearly everyone else's 401ks in half. That is called criminal incompetence.

Starting from a false premise that fails to understand the most basic behaviors of the Human animal, economics proceeds to build an edifice of cards on a foundation of sand.
It's hard to believe that a field of study could have drifted so far off course into obvious delusions...unless it was done intentionally. The fact that the wealthy elites have gained so much power and wealth from both the booms and busts of this unstable system is all the motive that you would need.
Albert Edwards, the chief strategist at Societe Generale, has flat out accused the Federal Reserve and Bank of England in complicity in robbing the middle classes of America and Britain.
While governments preside over economic policies which make the very rich even richer, national consumption needs to be boosted in some way to avoid underconsumption ending in outright deflation. In addition, the middle classes also need to be thrown a sop to disguise the fact they are not benefiting at all from economic growth. This is where central banks have played their pernicious part...

Now you might argue central banks had no alternative in the face of under-consumption. Or you might conclude there was a deliberate, unspoken collusion among policymakers to rob the middle classes of their rightful share of income growth by throwing them illusionary spending power based on asset price inflation. We will never know.

But it is clear in my mind that ordinary working people would not have tolerated these extreme redistributive policies had not the UK and US central banks played their supporting role.
To over-simplify things, the Federal Reserve has only one tool at its disposal: the printing press. The Fed
cheapens money
to stimulate the economy, but this encourages speculation, which leads to bubbles.
The moral is: Cheap money creates bubbles; and bubbles move wealth from workers to rich motherporkers. It's as simple as that. That's why the wealth gap is wider now than anytime since the Gilded Age.
Lately, the Federal Reserve has become much more open about its collusion with the financial elite. For examples, the Fed's efforts to
cover up its role
in the bailout of AIG, and its role involving the
bankruptcy of Lehman Brothers
.
One of the things missing from the economic discussion today is the lack of the perspective.
Wall Street has financialized the public domain to inaugurate a neo-feudal tollbooth economy while privatizing the government itself, headed by the Treasury and Federal Reserve. Left untouched is the story how industrial capitalism has succumbed to an insatiable and unsustainable finance capitalism, whose newest "final stage" seems to be a zero-sum game of casino capitalism based on derivative swaps and kindred hedge fund gambling innovations.
The failure of today's economists extend beyond the fact that they failed to anticipate the recession (as late as January 2008, most economists were predicting we would
avoid a recession
). Their real failure is that they don't even understand why the recession happened, despite the fact that the man on the street can grasp the idea once he is aware of the facts. It's that sort of failure that cannot be forgiven.
My favorite contemporary economist with a historical perspective is Michael Hudson. His view of economists today is not complimentary.
the "intellectual engineering" that has turned the economics discipline into a public relations exercise for the rentier classes criticized by the classical economists: landlords, bankers and monopolists. It was largely to counter criticisms of their unearned income and wealth, after all, that the post-classical reaction aimed to limit the conceptual "toolbox" of economists to become so unrealistic, narrow-minded and self-serving to the status quo. It has ended up as an intellectual ploy to distract attention away from the financial and property dynamics that are polarizing our world between debtors and creditors, property owners and renters, while steering politics from democracy to oligarchy.
Economics today is not just a science without a purpose. Economics, as the professions now exists, is to science what Fox News is to the news media. Just like the purpose of Fox News is to
mis
inform the public, the purpose of economics today is a PR con to justify inefficient and immoral policies that defend the status quo and keep mankind from advancing.
For instance, I noticed Glen Beck had this to say at the CPAC.
He then read disapprovingly the Theodore Roosevelt quote that "we grudge no man a fortune in civil life if it is honorably obtained and well used...so long as the gaining represents benefit to the community."

"Is this what the Republican Party stands for?" Beck demanded. He was answered with boos and cries of "no!"
It may seem ironic that a group well versed on religion, and supporting laws regulating practices that they consider immoral, would never consider extending their morality to the accumulation of great wealth and power. Their outrage appears limited to immoral acts that don't actually effect them. Why should honor and benefit to a person's community be excluded from the discussion of economics and moral behavior in general? Also, isn't this strange concept of separating honor and morality from economics at least part of the reason why we are in this situation?
It should be noted that the field of economics wasn't always like this. In fact, its original purpose was enhancing the human condition.
What have been lost are the Progressive Era's two great reforms. First, minimizing the economy's free lunch of unearned income (e.g., monopolistic privilege and privatization of the public domain in contrast to one's own labor and enterprise) by taxing absentee property rent and asset-price ("capital") gains, keeping natural monopolies in the public domain, and anti-trust regulation. The aim of progressive economic justice was to prevent exploitation - e.g., charging more than the technologically necessary costs of production and reasonable profits warranted.

A second Progressive Era aim was to steer the financial sector so as to fund capital formation...Today's bank credit has become decoupled from capital formation, taking the form mainly of mortgage credit (80%), and loans secured by corporate stock (for mergers, acquisitions and corporate raids) as well as for speculation. The effect is to spur asset-price inflation on credit, in ways that benefit the few at the expense of the economy at large.
SUBSCRIBE AND FOLLOW
Get top stories and blog posts emailed to me each day. Newsletters may offer personalized content or advertisements.
Learn more