Part 2 of 2
Any closed door can be opened. Such is the case of medical marijuana and the State of Florida. Twenty states have legalized medical marijuana in the past few years, while the conservative Florida Legislature ramped up its war against the drug.
It is ironic that Florida is known throughout the country as the destination for tourists seeking pill mills to purchase pain medications with high addiction rates. Yet while Florida was dialing back on pill-mill oversight and regulation, we had the highest penalties in the nation for marijuana possession, production and sales.
Conservative, compassionate approaches allowing for the research and dispensing of medical marijuana for truly debilitating conditions had been dismissed in the past, with bill after bill being filed, then forgotten.
That is all changing, and changing rapidly.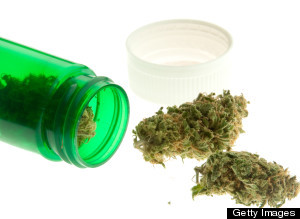 Photo courtesy of Getty Images

.
Two options for Florida have successfully gained a foothold toward success this year, and it didn't take 49 other states to do it first.
State Rep. Katie Edwards, D-Plantation, has filed a bill with strong bipartisan support in the Florida House, including the highly conservative chairman of the Criminal Justice Subcommittee, state Rep. Matt Gaetz, R-Fort Walton Beach. It even has a companion bill being developed in the Florida Senate that increases the penalties on prescription pain medicine, abuse and opiates. This is a 180-degree turn in the right direction.
But another option to open the door arose this fall at blazing speed, started by People United for Medical Marijuana (PUFMM) as a ballot initiative for a constitutional amendment, bolstered by a massive grassroots effort and a $4 million contribution by populist lawyer John Morgan.
"Most people do these things in three years," Morgan commented. "We started in September." Morgan grabbed the initiative started by PUFMM and sent it to John Mills, a constitutional scholar, law professor and former dean at the University of Florida Law School. What resulted was an amendment that Mills and his team felt would pass muster with the Florida Supreme Court.
He was right. Morgan's group passed a major hurdle by gathering more than 683,000 signatures on petitions by Feb. 1, a deadline they beat by weeks. The Supreme Court had until April 1 to approve the wording, but Morgan and Mills didn't have to hold their breath for long. The court ruled 4 to 3 in favor of the referendum within days.
The referendum, now officially question two on the November ballot, has the approval of 82 percent of those polled. Now, it faces the third and biggest hurdle so far -- getting 60 percent of Floridians who actually go to the polls to say "Yes on 2," and there are forces already at work to keep that from happening.
The amendment has powerful opponents, including House Speaker Will Weatherford, Attorney General Pam Bondi, the Florida Chamber of Commerce, the Florida Medical Association, the Florida Police Chiefs Association and the Florida Sheriffs Association.
If it wins, there will be forces pushing against it. After passage, the Department of Health has six months to develop and implement the process to distribute ID cards within nine months to qualified individuals (with a doctor's certificate). The department also has to develop guidelines for the amount an individual is allowed to possess, based on what they feel is "reasonably presumed to be an adequate supply," and regulations to monitor approved dispensaries and their certification and operations.
If the Department of Health creates rules that effectively prohibit dispensaries from being established, Floridians can sue. Considering the normal rate at which the court system operates, that wait could be long. Very long.
I am not saying that Floridians should vote "no" based on the difficulties the amendment may face, but any good climber knows that preparation for the ascent is vital, with acknowledgment of all possible barriers.
Looking at these two possible options, Edwards' "Charlotte's Web" bill has a greater bipartisan consensus behind it, including Rep. Gaetz, who reiterated to me a common concern of many conservatives in the Legislature. "This bill is overkill. It's like killing a mosquito with a nuclear warhead." He continued, "Make no mistake about it; the constitutional amendment will put a pot dispensary in just about every neighborhood in Florida."
The concern over a California-style law, which opponents claim will allow purchases by anyone who can fake a qualifying illness to an unethical doctor is addressed in the amendment. The Mills team was careful to develop wording that would not be an open door to recreational marijuana, like Colorado and Washington State.
It does, however, regulate and tax the sales of medical marijuana so that citizens in need will have the benefit of an alternative drug that can ease their pain, and the beleaguered state budget will have the benefit of income from its taxation.
Both plans will open the door to benefits that only 40 percent of the states currently enjoy. Florida deserves to have that opportunity.
This column was originally published in Context Florida, a political news and commentary e-magazine
SUBSCRIBE TO & FOLLOW POLITICS
How will Trump's administration impact you? Learn more