There are some people who do great things in places far from the limelight. You may see them on the local news at a rally, in a crowd and sometimes even interviewed about the things they have seen and done, and why they did them. Paula Witthaus was just such a person.
Her life and work was her most precious asset. She had very little in terms of material wealth. So it came as a great shock to everyone who knew her and met her, or knew of her, when she was found murdered in her modest 670-square foot home in St. Petersburg, along with the gentleman she was living with.
There is a hierarchy of headlines for articles announcing someone's demise. If you are famous (or infamous) the headline merely states your name, like "[Celebrity] Found Dead in His Home." If you are fairly famous, editors often add your profession. "[Celebrity], Actor of More Than 50 Films, Found Dead in His Home." A less famous individual would be cut back to "Actor Found Dead in His Home." But for some of us, the headline would read "Man Found Dead at Home." Most of us don't even get a headline, unless it is in a very local publication. There are even some who don't even get an obituary.
The headline in the Tampa Bay Times on January 28, 2014, stated, "Couple found dead in their St. Petersburg home." The article gave a brief summary of her life, pointing out old convictions that she received from doing things that desperate people sometimes do.

The Tampa Tribune knocked it down another notch to emphasize the sensational aspect: "St. Pete Police Investigating Double Homicide," the article then proceeded to get Paula's age wrong by 10 years.
My column is meant to raise Paula to the high level that she deserved.
I met Paula almost a year ago, on February 11, as we traveled with a few other people to Tallahassee to testify in front of a Florida Senate Committee to plead our case for Medicaid Expansion. During our trip, I looked around and studied the faces of my fellow travelers. Paula sat quietly clutching a note pad and an 8'X 10" framed photo of a man with a twinkling smile and small mustache. She had surgical scars on her neck that looked like skin-cancer removal, and her face looked worn and tired. But when I introduced myself, every part of her face smiled at me from her eyes to her chin. She had glasses hanging from a lanyard that she constantly put on to look at almost anything, then took off as she spoke. We talked for a while, and I found out that the man in the picture was her companion of 18 years who had passed away a few years ago due to lack of health care, and she was going to the Capitol to tell his story.
When she spoke in front of the Senators, she spoke from the heart and grabbed their attention. Senator Negron had limited public testimony to three minutes. She spoke for five and he never stopped her. She made her point. As she was leaving, members of the press came to talk to her. She had grabbed their attention, too.
I saw her many times over the next year. I saw her at rallies for improving transit in St. Pete, at events for political candidates, and at events for CASA(Community Action Stops Abuse). She proudly told me of the grant she had written and won for a Food Bank called Mercy Keepers, and that she had urged the St. Petersburg City Council to adopt a domestic registry for unmarried couples, gay or heterosexual.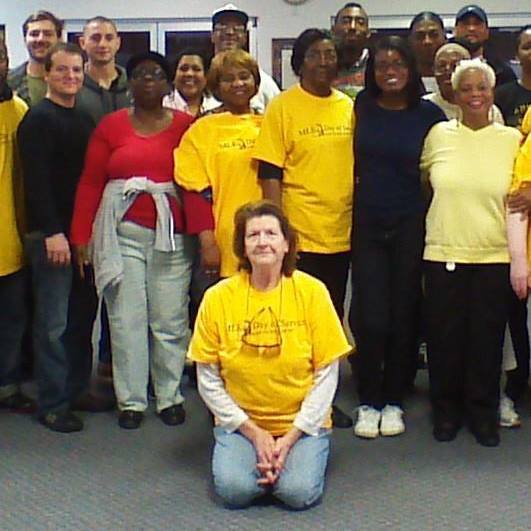 Paula (in front) and friends at Mercy Keepers.
Each time she told me more about the trials and tribulations of her life. She talked about being homeless at one point, about beating skin cancer and recently becoming legally blind. The last time I saw her was at the University of South Florida in Tampa, speaking out about several causes at a Legislative Delegation meeting. I knew she couldn't drive anymore, so I offered her a ride home. She told me she took three buses there, and she was going to take three buses back. "I have a bus pass, and I am damn well going to use it. More people should!" she exclaimed.
She was feisty, down-to-earth, and dedicated to doing good things, without expecting monetary gain for herself doing it.
Most likely, she didn't see the person who killed her as a threat, but perhaps just someone in need.
Most importantly, she deserved more than a generalized murder headline.
She will be missed by many.
____
The murderer of Paula Witthaus and James is still unknown and at large. If you you know of any information that may lead to the identity and arrest of their killer, there is a $1,000 reward. Contact Detective Rodney Tower at the police non-emergency number , (727) 893-7780, text their tip to (727) 420-8911 or leave a confidential tip at (727) 892-5000.