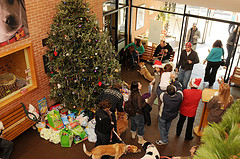 It's happened again. And just a little more than a few weeks before Christmas. A new non-profit organization called the Humane Society for Shelter Pets (HSSP) was formed by the Center for Consumer Freedom (CCF).
The latter is run by Rick Berman, who has battled such "tyrannical" organizations as Mothers Against Drunk Driving, and who seems to have a personal vendetta against the Humane Society of the United States (HSUS). He is using HSSP to create a veritable public coliseum over his claim that HSUS does not support shelters or shelter animals.
Nothing could be further from the truth.
No legitimate movement can afford to discourage "discourse." That's how causes thrive, educate and grow. For the past few years, though, the animal welfare profession has suffered from some of the most hostile attacks I've ever seen. All in the name of saving animals -- something we all want to do. So whether it's from the "no kill movement," or puppy mill business interests, or egg manufactures, we've been hurt badly by the "dis-cohesiveness" of our support base. What CCF and the new Humane Society for Shelter Pets are doing now is just the latest toxic attack in this game of thrones.
They claim that HSUS is misleading the public about where their funds go. Nonsense. Anyone at any time can pull up the HSUS's IRS Form 990 and see that millions of dollars go to helping local shelters each year. And millions more go to the fantastic education programs such as the National Animal Care Expo that we all benefit from.
Many more millions go to shutting down puppy mills, saving animals from hoarders, and rescuing wildlife. The simple truth is that HSUS supports shelters and companion animals. Period. They are not -- and they never say they are -- the single umbrella entity under which we all work. What they are is the largest and most effective voice for animals and against suffering in a world with far too much of it.

Thanks to HSUS, there is cohesion in our struggle to protect animals and move the nation forward on humane issues: shutting down puppy mills, promoting spay/neuter, encouraging shelter pet adoption, and other issues that are crucial to our joint success. And they are always ready to mobilize their rescue teams to work with local shelters responding to natural disasters, hoarding cases, dog fighting rings, puppy mill raids, and other large-scale, often overwhelming, problems.
There is just too much work to do; we can't be successful if we're divided. Let's drop the factional language that separates us. We need to increase cohesion between animal groups who share the honor and the grave responsibility to care for the most helpless among us. Using strategies to harm good organizations like HSUS hurts the cause for all involved. My shelter, the Washington Animal Rescue League, is proud to partner with HSUS. For all they do for animals and all they contribute to shelters across the country, they deserve the undivided support of everyone in the animal welfare field and, indeed, the public as a whole.
Fact is, we're all trying to take care of animals, and we need to do this job together. Creating organizations such as this new shelter pets group that use hate and vitriol to manipulate the public harms the backbone of our movement and, worse yet, pits all of us against each other. We could move closer to our common goal of helping more animals by working together, collaborating to conquer the immense problem of animal homelessness. Groups such as the CCF and the HSSP, hurt not only us, but the animals we are all trying to help.
I'm all for accountability. But let's not make up facts to serve our own self-aggrandizing goals. We should all be doing everything we can to ensure that homeless animals get into the homes they need and deserve. But we will be much more effective in pursuit of that goal if we work together and stop creating divisions.
We can help animals, and each other, best by working together. Not by being divided and conquering each other to further self-interested agendas. In this season of peace and joy, let's not hurt animals more by dividing those dedicated to saving them. CCF and its new group HSSP, may, in fact, have done the best thing in the world for animals by shedding light on the animosity that got animals into their homeless predicament in the first place: self-interest, dishonesty, and ignorance.
So let's drop the factional language which separates us. Let's celebrate collaboration -- not combat -- in this season of giving and work together to save those who need us the most. I, for one, am thankful to have the support of the Humane Society of the United States whenever we need it. And I personally know a few thousand animals who are home for the holidays today precisely because of that support.

SUBSCRIBE TO & FOLLOW THE MORNING EMAIL
The Morning Email helps you start your workday with everything you need to know: breaking news, entertainment and a dash of fun. Learn more