THE BLOG
Empire Of The Sun Journey Through Terminal 5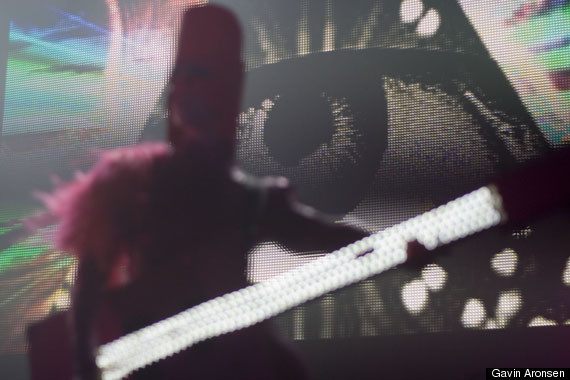 My friend first introduced me to Empire of the Sun through the shot-in-Shanghai music video to "Walking on a Dream," the title track of their only album, released in 2008. The Australian duo's video struck me then as an ill-conceived hybrid of cheesy '80s synthpop and a self-important anime film come to life, if such a thing exists. I attributed my friend's interest to inebriated judgment and never gave the band a serious look until this Monday, when they played Terminal 5 in New York.
Empire's Luke Steele played alone in Manhattan's Hell's Kitchen that night (his companion, Nick Littlemore, doesn't do the live shows). Steele brought with him a full band complete with troupe of ostentatious backup dancers, some clad in skintight hot pink, others turquoise blue. The sold-out show was their second consecutive at Terminal 5, but only their third performance ever in North America. The first happened on Saturday at Lollapalooza, where they were reportedly a resounding success.
To be sure, Empire of the Sun are a unique band. But the quirks I had noticed before in their video and cynically dismissed translated seamlessly (in a good way) to the live stage for their eager audience, even if the multi-story venue was too overcrowded to really dance.
Empire employed all the usual tricks, bright lights, fog machine, and dancers who gyrated to the New Wavey synth beats and bouncy vocals. Behind it all, a screen projected scenes from Steele and Littlemore's outlandish imaginations: cheery landscapes, icy seascapes, outer space, and the Eye of God, all in constant flux. Steele sang in metal-feathered headdress, alternating between guitar and keyboard as he roamed the stage. It was all deliberately theatrical -- fitting for a band whose members call themselves Emperor Steele and Lord Littlemore.
Still, the Terminal 5 show, like their music videos, appeared to me to be about pure and simple, at times almost self-parodying, entertainment. How could a band, whose oft-discussed reason for shooting the videos in such exotic places is to take the world by storm via peace and joy (and a feature-length musical film), have it any other way?
The event's tickets read "WALKING ON A DREAM TOUR," and that's the album that Empire played, minus "Country" and with the addition of a couple of newer tracks. The result was a relatively brief 11-song set. I watched from the balcony as Steele closed out the set, appropriately, with "Walking on a Dream." It's a silly song but it's all in good fun. That fun has made Empire of the Sun into something of a phenomenon, and if they manage to follow up their 2008 debut with another hit they won't likely leave the spotlight anytime soon, wherever their journeys may take them.