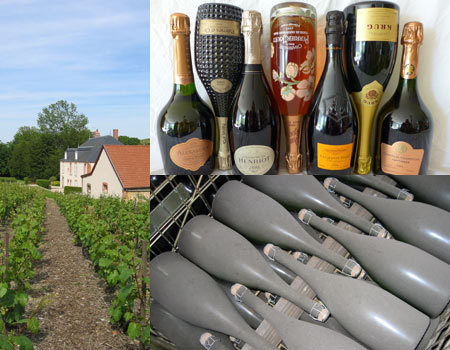 When it comes to wine, we're all for great deals. However, we also like to occasionally splurge on something special -- which is why we've crafted this list of the top five prestige Champagnes. Representing only the finest output from legendary French houses, such as Piper Heidsieck and Henriot, this exclusive class of sparkling wines offers a sublime sipping experience. Be sure to consider GAYOT's selection of luxury Champagnes before stocking the cellar for your next soirée.
Champagne Billecart-Salmon 1999 Brut
One of the few remaining family-owned Champagne houses, Billecarte-Salmon is now run by the sixth generation of the family. Their 1999 Brut offers wafting aromas of roasted chestnuts and dried fruit with notes of lime. On the palate, flavors of sweet stone fruits, smoke and earth are balanced by hints of brioche -- creating a powerful yet elegant offering.
Champagne Boizel 1996 Joyau de France
Made from a blend of 40 percent Chardonnay and 60 percent Pinot Noir, Boizel's 1996 Joyau de France entices the nose with a rich and pure bouquet. It's full of apricot and freshly baked biscuits with light notes of nuts and spice. This Champagne showcases depth and richness with flavors of almond and citrus fruit leading to a creamy hazelnut finish.
Champagne Duval-Leroy 2000 Cuvée Femme
Founded in 1859 by wine trader Edouard Leroy and grape-grower/winemaker Jules Duval, Champagne Duval-Leroy has made a name for itself through its commitment to sustainable viticulture. Made of 95 percent Chardonnay and 5 percent Pinot Noir, their 2000 Cuvée Femme boasts aromas of vanilla, brioche and orange that burst onto the palate -- resolving in a long, silky finish.
Champagne Piper Heidsieck Rare 2002
Piper Heidsieck's line of Rare Vintage Champagnes truly lives up to its name. The Rare 2002 is only the eighth vintage to be released since the inaugural 1976. Composed of 70 percent Chardonnay and 30 percent Pinot Noir, this golden-hued Champagne displays complex aromas of tropical fruit and almond. They're then balanced by flavors of pear, pineapple and ginger on the palate.
Champagne Henriot 1998 Cuvée des Enchanteleurs
The Cuvée des Enchanteleurs is named for the cellar workers who used to shift wine barrels onto gantries for extended aging. One of the perks of the job was the right to craft their own Champagne from the finest wines. The 1998 Cuvée des Enchanteleurs is a 50-50 blend of Pinot Noir and Chardonnay aged for 12 years. Offering citrus, hazelnut and honeyed aromas on the nose, it reveals lemon, peach and brioche flavors in the mouth.
SUBSCRIBE AND FOLLOW
Get top stories and blog posts emailed to me each day. Newsletters may offer personalized content or advertisements.
Learn more