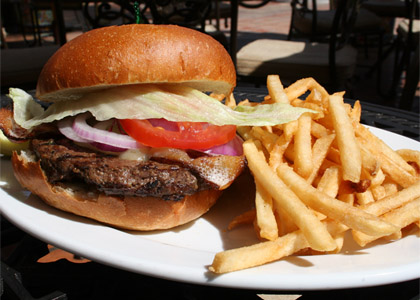 Taxes may be eating away at your income, but you can still enjoy eating at restaurants. Hamburgers are inexpensive, plentiful and all-American. But dining out on a burger doesn't have to mean you're relegated to a fast food chain. We've scoured the country for the best places to order the American standard hot sandwich. Whether you like your hamburger topped with truffles and foie gras or with ketchup and a side of fries, you'll find both approaches to the patty on our list of the top 10 burger restaurants in the United States. If you need more selection, check out the Best Burgers Near You.
Gordon Ramsay BurGR
Planet Hollywood Resort & Casino
3667 Las Vegas Blvd. S.
Las Vegas, NV 89109
702-785-5555
Gordon Ramsay (the "GR" in "BurGR") has made his Vegas gourmet burger restaurant debut just steps from the Planet Hollywood Strip entrance. The burgers are a luxe mixture of brisket, chuck and short rib, flame-broiled over apple and alder woods and basted with Devonshire butter.
Read a complete restaurant review of Gordon Ramsay BurGR
Short Order
Farmers Market
6333 W. Third St.
Los Angeles, CA 90036
323-761-7970
What makes the artisan burgers at Short Order so darn good? The ingredients are from local farmers and purveyors, and the meat is humanely raised, organic and grass-fed beef. Then add good fries, even better spuds and great crispy pickle chips that you can dip in homemade sauces.
Read a complete restaurant review of Short Order
DMK Burger Bar
2954 N. Sheffield Ave.
Chicago, IL 60657
773-360-8686
In so many ways, this Chicago burger joint is a winning formula, from the casual, come-as-you-are communal feel to the affordable, and different-enough, takes on patties, such as the seriously good grass-fed lamb burger oozing with tzatziki.
Read a complete restaurant review of DMK Burger Bar
Bobcat Bite
418 Old Las Vegas Hwy.
Santa Fe, NM 87505
505-983-5319
Named for the wild bobcats that used to hang out here waiting for scraps from the kitchen, Bobcat Bite in Santa Fe has been turning out their legendary cheeseburgers for decades. Topped with spicy roasted green chile strips and cheddar cheese, these are hamburgers to remember.
Read a complete restaurant review of Bobcat Bite
Burger Joint
Le Parker Meridien New York
119 W. 56th St.
New York, NY 10019
212-708-7414
Hidden behind a curtain in the lobby of Le Parker Meridien New York is the secret snack bar Burger Joint. The short menu offers grilled burgers with "The Works" (lettuce, tomato, onion, pickles, mustard, ketchup and mayo), fries, milkshakes and beer on tap.
Read a complete restaurant review of Burger Joint
BurgerMeister
759 Columbus Ave.
San Francisco, CA 94133
415-296-9907
San Francisco's BurgerMeister serves up classic, high quality burgers. Hand-formed eight-ounce Niman Ranch beef patties are flame-grilled to juicy perfection and placed on soft sesame seed buns.
Read a complete restaurant review of BurgerMeister
Carl's Drive In
9033 Manchester Rd.
Brentwood, MO 63144
314-961-9652
The flat-grilled hamburgers are topnotch at Carl's Drive In. Owner-cook Frank Cunetto gets them from the grill to the customer as fast as possible, and he even makes his own root beer, too, serving it in frosty mugs.
Read a complete restaurant review of Carl's Drive In
Chip's Old Fashioned Hamburgers
4530 Lovers Lane
Dallas, TX 75225
214-691-2447
Always full, sometimes with a line that snakes out the door, Chip's Old Fashioned Hamburgers in Dallas is a burger-lover's paradise. Enjoy a Texas-sized feast of a big juicy burger, excellent fried shoestring onions and a thick banana shake.
Read a complete restaurant review of Chip's Old Fashioned Hamburgers
FLIP burger boutique
1587 Howell Mill Rd. NW
Atlanta, GA 30318
404-352-3547
At FLIP burger boutique in Atlanta, "Top Chef All-Stars" winner Richard Blais puts his own spin on the American classics with dishes like the Southern barbecue-inspired rBQ burger and a Krispy Kreme donut milkshake.
Read a complete restaurant review of FLIP burger boutique
Le Tub
1100 N. Ocean Dr.
Hollywood, FL 33019
954-921-9425
License plates, fishing nets and ladies' underwear decorate the inside of Le Tub in South Florida, but don't let that distract you from savoring one of their meaty burgers.
Read a complete restaurant review of Le Tub
MORE ON GAYOT.com
Photos and More Information on the Top 10 U.S. Burger Restaurants
Top 10 Pizza Places in the U.S.