Walter J. "Wally" Hickel (1919-2010), the colorful two-time Governor of Alaska and former U.S. Secretary of the Interior under Richard Nixon, had long declared that "I want to be buried standing up so I can fight for what I believe in forever."
He got his wish. At private services held earlier this week at Anchorage Memorial Park Cemetery, Hickel was buried vertically before family and close friends.
Photographs of the services and the unique burial were taken by noted Alaska photographer Clark James Mishler.
"Typical Wally," said his longtime friend and confidante Malcolm Roberts. "He has us laughing even beyond the grave."
"Yes, we shed tears," said Ermalee Hickel, his wife of 55 years, "but it was such a friendly, joyous occasion. I know Wally is in heaven, and he's smiling at us and cheering us on."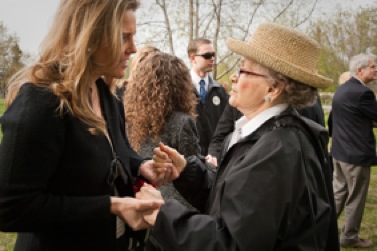 Hickel, the Kansas welterweight Golden Gloves Champion of 1936, arrived in Alaska four years later with only 37 cents in his pocket. He became a larger-than-life figure in the Last Frontier, where his fighting spirit and seemingly boundless energy assured his success, not only in the political arena, but in business and public policy as well. He was also known for his robust sense of humor.
He dedicated the latter part of his life trying to educate the American people that over 80 percent of the earth's surface is "commons" -- meaning that it is commonly owned and should be used and cared for to help all people. "When we finally understand the commons," he wrote, "there will be no legitimate reason for poverty on this earth."
Hickel was never one to duck a fight. He was fired by Nixon after criticizing the administration's handling of student protests during the Vietnam War.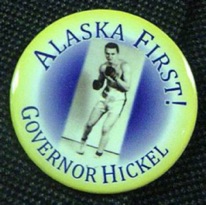 He also took on former Alaska Governor Sarah Palin, whose candidacy he initially supported, but by whom he felt profoundly betrayed before she left office. Contrary to claims by Palin supporters this week, Palin had not initiated a rapprochement with Hickel before his death.
"Sarah never approached the Governor in person or in any other way to patch things up," said Roberts. "When he endorsed her candidacy for VP, she sent him an email thanking him effusively and saying she would call him. She never did."
Palin attended the memorial services for Hickel, but did not attend the burial ceremony, to which Hickel's widow, Ermalee, had invited "the entire community," according to Roberts.
The late governor's former political advisor, John Hendrickson, created a button for the burial services featuring a young Hickel in a boxing pose, with the phrase "Alaska First!" emblazed above it.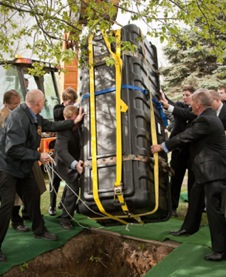 Archbishop emeritus Francis Hurley, who officiated the final Hickel services, declared: "In 59 years as a priest I have never seen such happiness at a burial."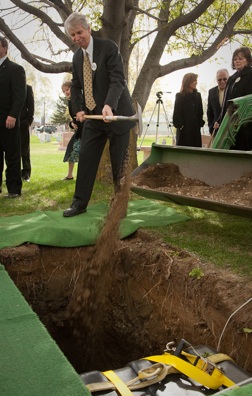 Award-winning writer and filmmaker Geoffrey Dunn's book The Lies of Sarah Palin: The Untold Story Behind Her Relentless Quest for Power will be published by St. Martin's Press.
This Blogger's Books and Other Items from...
FOLLOW HUFFPOST