THE BLOG
Palin Advisor Is a Former BP Lobbyist & Foreign Agent
In the aftermath of the catastrophic BP oil spill in the Gulf of Mexico, Fox News commentator and 2012 GOP presidential wannabe Sarah Palin talked tough from the sanctity of her Facebook and Twitter accounts about playing "hardball" with BP executives. "[V]erify what BP reports," she proffered in a Facebook posting riddled with distortions of her own record with Big Oil in Alaska. "Demand answers."
Palin rattles off a good game about standing up to oil interests and lobbyists. Yet government documents provided by both the Senate Office of Public Records and the Federal Elections Commission reveal that Randy Scheunemann -- Palin's most ardent supporter in the McCain camp during her disastrous performance in the 2008 presidential campaign -- not only remains on Palin's payroll as a well-paid foreign policy advisor, but that he served as a lobbyist for BP Amoco from 1999-2000, receiving payments through his former lobbying firm the Mercury Group.

Scheunemann later served BP's interests as an agent for the so-called Caspian Alliance -- a consortium of global oil interests pursuing petro-profits in the former Soviet republics (Kazakhstan, Turkmenistan and Azerbaijan) that border the Caspian Sea.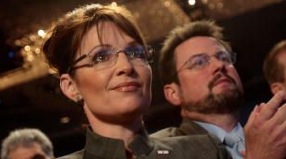 According to sources close to the Palin camp, Scheunemann plays a major role in advising Palin on foreign policy issues as she positions herself for a run at the White House in 2012. As Ben Smith of Politico pointed out, it was Scheunemann who drafted Palin's first major foreign policy speech in Hong Kong a year ago. Scheunemann accompanied Palin overseas to that engagement.
FEC records indicate that Palin's political action committee, SarahPAC, is paying Scheunemann's Virginia-based Orion Strategies $10,000 per month and has expended $90,000 to date for his services.
As the media focus on Palin disintegrates into discussions about Spanx girdles, alleged remarks about her daughter Bristol's marriage plans and the mistaken identity of her infant son at a campaign event two years ago, Palin is readying herself for a major 9/11 rally this weekend with Glenn Beck in Anchorage (with a second one in her hometown of Wasilla) at which she will be shoring up her foreign policy credentials as the most vital mouthpiece of the conservative, evangelical wing of the Republican Party.
It was Scheunemann -- a major figure in Neo-Conservative foreign policy circles -- who was tasked with the schooling of Palin in foreign affairs after she was selected by John McCain as his running mate in August of 2008. And, perhaps most importantly, it was Scheunemann who rescued the stumbling candidate from a psychological tailspin following Palin's spectacular failure in her series of interviews with Katie Couric. During Palin's prep for her vice presidential debate, it was Scheunemann who served as Palin's "horse whisperer" (not Mark McKinnon as was widely reported) as he played Joe Biden's role at the McCain family retreat in Arizona.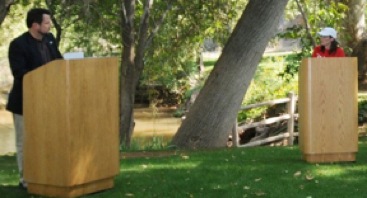 Scheunemann's lobbying efforts on behalf of several foreign governments during the Bush II years -- most notably Georgia, Macedonia and Taiwan -- have drawn criticism from across the political spectrum. Moreover, Scheunemann played a critical role in engineering the war in Iraq as director of the New American Century and as executive director of the Committee for the Liberation of Iraq. He also served as a special advisor on Iraq to Bush II's discredited Secretary of Defense Donald Rumsfeld.
Former UN Weapons inspector Scott Ritter described Scheunemann as a "very dangerous figure" and a "classic behind-the-scenes player in the Neo-Conservative cabal."
Conservative political commentator and communications director for Ronald Reagan, Pat Buchanan, was even more direct in his condemnation of Scheunemann:
He is a dual loyalist, a foreign agent whose assignment is to get America committed to spilling the blood of her sons for client regimes who have made this moral mercenary a rich man.
Newsweek's Jonathan Alter was equally dismissive. He described Scheunemann simply as a "second rater" in a special segment of Countdown with Keith Olbermann devoted to Scheunemann's role in Georgia.
Scheunemann's presence in the McCain campaign provided a constant source of bad press for the GOP nominee in his failed bid for the White House. Of particular embarrassment to McCain was a memorandum released during the campaign linking Scheunemann to war profiteering in Iraq. He was also implicated in a pay-for-access scheme involving the Bush Library.
According to New York Times reporters Elisabeth Bumiller and Larry Rohter, many members of the GOP's "realist" or "pragmatic" foreign policy wing of the party -- one that included Colin Powell, Brent Scowcroft, George Schultz, James Baker and even Henry Kissinger -- also expressed concerns about Scheunemann's role in the McCain campaign.
During the 1990s, Scheunemann served as a foreign policy advisor to Senator Bob Dole and later as a National Security Aide for former Senate Majority leader Trent Lott. It was through his work in the Senate, according to former senior advisors in the McCain campaign, that Scheunemann forged a relationship with McCain and McCain's chief-of-staff Mark Salter. He joined a plethora of controversial lobbyists -- most notably Rick Davis, Charlie Black, and Wayne Berman -- who served as senior advisors to the McCain campaign.
In addition to the lobbying controversies that trailed him, Scheunemann proved to be a highly divisive figure during the campaign. A search of McCain campaign emails by senior staff led to the discovery that it was Scheunemann who had leaked information to then-New York Times columnist (and Scheunemann's Neo-Con buddy) Bill Kristol critical of the inner-workings of the McCain campaign, and in particular, attacking senior advisors. There was a slapstick attempt to fire Scheunemann over the leaks--he bragged at the end of the campaign that he had his final pay stubs. Scheunemann then became enmeshed in a media battle with his McCain campaign nemesis Steve Schmidt following the election as Scheunemann defended Palin against charges levied against her in a celebrated Vanity Fair account of Palin by Todd Purdum.
While the tete-a-tete with Schmidt made for entertaining political theater, of far greater significance is the positioning of Palin's foreign policy views since the campaign. She is certainly the horse on whom the Neo-Cons are placing their bets in the 2012 GOP presidential sweepstakes. Palin has crafted a hard-line position in Afghanistan and the Middle East and has supported NATO going to war against Russia to protect international oil interests in the region. Scheunemann is clearly the architect of these policies.
Leave it to the bare-knuckled Buchanan to make the compelling summation of Scheunemann's role in international affairs:
"Against the insidious wiles of foreign influence...a free people ought to be constantly awake," Washington warned in his Farewell Address. Our Founding Father was warning against the Randy Scheunemanns among us, agents hired by foreign powers to deceive Americans into fighting their wars. And none dare call it treason.
Award-winning writer and filmmaker Geoffrey Dunn's book The Lies of Sarah Palin: The Untold Story Behind Her Relentless Quest for Power will be published by St. Martin's Press.

This Blogger's Books and Other Items from...